As one of Top Ten Tourist Town and an ancient town of the Miao people on a plateau in the mountains of the eastern part of Guizhou Province, Zhenyuan is famous for its long history with many rich and generous cultural relics, making it much like a historic garden. Zhenyuan Ancient Town covers only an area of 3.1 square kilometers but greets you with more than 160 scenic spots including caves, palaces, pavilions, temples and rivers with their unique architecture, exquisite engravings and marvelous natural landscape. The Dragon Boat Festival, held on May 25th of every year, is the most ceremonious celebration in Zhenyuan.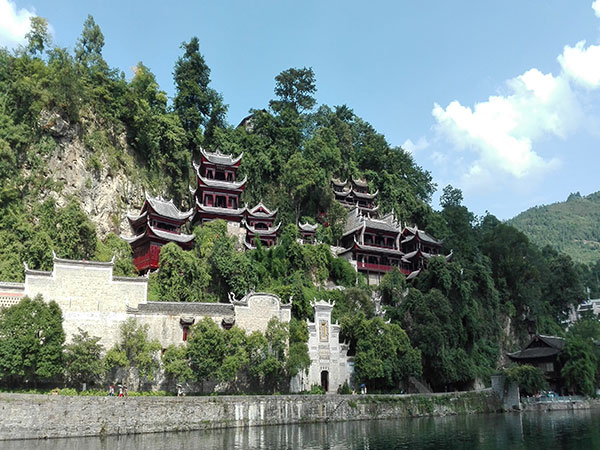 Qinglong Cave
Qinglong Cave is one of the most famous sigtseeing nearby Zhenyuan. It is not a cave rather than a group of construction covering an area of 20,000 square meters. It is really a wonderful masterpiece of human beings, combining the nature items and man-made temples. The constructions stretch over one li (0.5 km) from north to south, with more than 100 pavilions, terraces and towers – large and small.


Wuyang River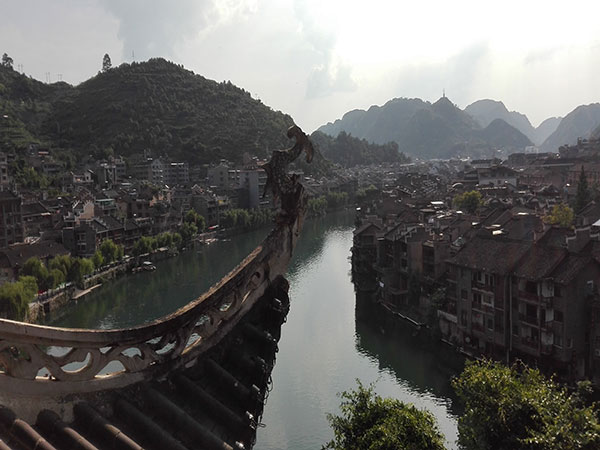 Cut through by the Wuyang River, Zhenyuan Ancient Town is divided into two parts: south city and north city, which forms a water town. Hence you will see the importance of Wuyang River for this ancient town. Flowing through the Mt. Miaoling, the charming and lively Wuyang River runs 95 kilometers (about 59 miles) from Huangping to Zhenyuan, finally into Yuanjiang River in Hunan Province. The part in Zhenyuan Ancient Town is the essence of whole part. Taking a cruise on the Wuyang River will bring you one surprise after another. Grotesque gorges, perilous peaks and crystal-like waters present a wonderful picture before you, as if you were entering a wonderland. Secluded caves, gurgling springs, rugged rocks, dangerous passes and spectacular waterfalls interspersed on the mountains of both banks endow the Wuyang River, along with the dangers of Yangtze River and the elegance of
Li River in Guilin. Each scenic spot has been given a fanciful name according to their beautiful legends.