Yalong Bay Tropical Paradise Forest Park is located in the Yalong Bay National Resort in Sanya city of Hainan Province, the unique tropical maritime city in China. Covering an area of 15 square kilometers, this park is not only the first forest park in Sanya city developed according to the specifications for National Forest Park of China, but also the first forest park for coastal mountain ecological tourism and resort. Hainan province is the first ecological province of China and Tropical Paradise is the nearest natural forest oxygen bar to city. This park is a ideal place for mountaineering expedition, filed training, leisure and sightseeing, fitness holidays, popular science education with folk culture experience, etc.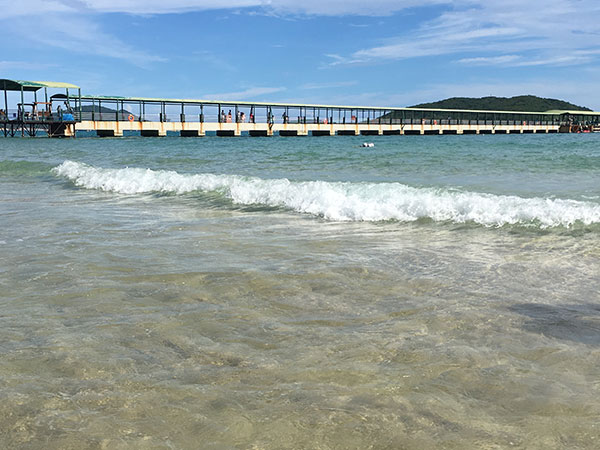 What to Explore in Tropical Paradise Forest Park
The park is oriented to be an international first-class forest park for coastal mountain ecological tourism and resort. There are two vegetation types in the park: tropical evergreen rain forest and tropical semi-deciduous fores, with rich diversity that includes 133 plants and more than 1500 families. In the park, there are more than 3o mammals, 60 amphibians and reptiles and 100 varieties of birds, such as wild pig, macaque, boa, rasse and chameleon, etc. Meanwhile, it is also a kingdom of butterflies which has 20 kinds of beautiful butterflies. Counting on the great diversity of the biology, geography, astronomical phenomena and cultural resources, the park was constructed into a natural and ecological style. Multiple recreation activities are viable there such as mountain adventure, outward bound training, leisure, health resort, science education as well as folk culture experience.
Respecting for nature and ecology, highlighting personality and characteristic, the forest park which combines coastal ecological sightseeing with ecological holiday is created by the investment of 1.9 billion. There are more than 1500 varieties of tropical plants, 142 villa rooms and numbers of peak dining rooms and over 190 kinds of wild animals. The scenic spots here include Orchid Valley, Yanbo Pavilion, Guojianglong Rope, Qianli Umbrella, Tropical Paradise, Canghai Tower, Giant Buddha Stone, Kongshan Pavilion, etc.
Recommended sightseeing route in the park: Take a sightseeing car at the western gate and then get off at Orchid Valley; after finishing visiting the orchid valley, then take bus to Guojianglong, walk through Guojianglong Rope Bridge, and then get on a bus at Haitang Station and get off it at Redaitiantang Station (main peak), visit Giant Buddha Stone, Dragon Carving Square and Canghai Tower
Travel Guide
【Chinese name】:亚龙湾热带天堂森林公园
【How to get there】:
► From the Airport to the Park
Bus: take No.27 Rd at the Phoenix Airport (7:00 a.m. – 6:30 p.m., every 20 mins for 1 line)
Taxi: Depart from Phoenix Airport, via Ring Expressway, Yuya Rd, takes about 30 mins
► From Sanya Railway Station to the park
Taxi: Depart from the gate of the stationvia Fenghuang Rd, Yuya Rd, takes about 30 mins
► From Sanya Downtown to the Forest Park
Bus: Tourism Special Line, No15, No.27, No.24 and No.25.
Taxi: It is 16.2 kilometers away from the forest park to Sanya downtown, very convenient.
Note: It is 24.53 kilometers away from Sanya Phoenix International Airport, 16.2 kilometers away from the downtown of Sanya, 17.8 kilometers away from Sanya Railway Station, 7 kilometers away from Yalong Bay Bullet Train Station, 8 kilometers away from the intersection of East Line Expressway and 20 kilometers away from Sanya Port.