West Island (also called Diamaodao or Xidiadao) is the second largest island of Hainan Province. It is located about 20km (8 miles) away from Sanya downtown, just in Snaya Bay National Natural Reserve. With the resident less than 3,000 living mainly on fishing, this quiet island is attracting more and more vacationers. The island has the beautiful tropical landscape and fresh air. The sea area around it teems with corals and various kinds of colorful tropic fishes, like a huge marine biosphere. On this small island, you can spend a dreamy day by strolling around, playing the aquatic sports, enjoying the snack, or just watching the clouds in the blue sky.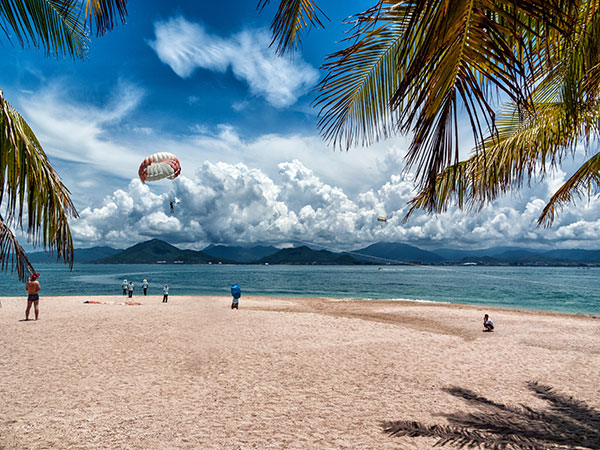 What to Do on West Island
West Island is the main destination for diving Sanya, also provides water motor boats, parasailing, banana boats and other water entertainment activities. There is a seafood restaurant on the island (usually for a team meal), casual snack bar, the old captain bar, a buffet restaurant. In the evening, you may stay overnight in a hotel with sea view, you may do camping. There are some interesting activities at night as well, such as Night Fishing, Night Diving, or attending a bonfire party on the beach. Compared with consumption in urban area, the price here is expensiver for eating and entertainment.
【Diving】
Diving is quite famous with most tourists, as its surrounding waters belong to a National Coral Reef Nature Reserve in Sanya. The underwater world is quite colorful. You can also see a variety of coral reef, as well as all kinds of tropical fishes, such as lion fishes, starfish, sea anemones and other marine life.
【Water Sports】
On beach in the northwest corner of West Island is a major venue for swimming and a variety of sea sports. As the sea water here is wide with mild tides, it is perfect to carry out sea sports. Sea sports here include sea motor boats, parasailing, banana boats, canoeing, surfing, etc.
【Sea Fishing】
Sea fishing is one of the featured activities on West Island. In the east of island, there are a few specific platforms for sea fishing. There are private boxes with music and tea, which allows tourists to enjoy fishing on a pleasant and interesting environment. And there are thousands of fish beds around, you will never go back with empty hands. There are also luxury yachts. You may rent one for boat fishing.
In addition to water recreation, you can also go to visit the Niuwang Islet, which is a subsidiary of the West Island. Niuwang Islet has very pristine natural scenery. You may take the cable car reach the islet. It is a little far to walk there.

Travel Guide
【Chinese name】: 西岛
【Best time to visit】: November to March next year. Although it is winter time in Sanya, but as the climate here belong to tropical climate. The weather is mild and warm here, with less rains or storm. The weather from June to September is quite hot in Sanya.
【How to get to West Island in Sanya】: you may take Public Bus Route No.25, 16, or 24, or take a taxi from Sanya downtown to get to the Xiaoqi Port first, then transfer to a boat or ferry to board West Island.