Tropical rainforest of Jianfeng Mountain is located in the north of Ledongli autonomous county of
Sanya, 90 kilometers away from Sanya city, built in 1976, and covers an area of about 1600 hectares. The protection object is mainly tropical rainforests and gibbons, peacock pheasant and other rare animals. In this mysterious big forest 75% and 85% of wildlife species of the plant in
Hainan are growing here. Jianfenglin region is still preserved the whole area of China's largest tropical forest, the integrity of the vegetation and species diversity are among the top, followed by the Amazon, the Congo River and Southeast Asian tropical rainforest. This Park Forest coverage rate is 96%, ancient towering trees, vines, streams, flowing cloud, melting the mountain, sea and forest together. Around the mountain is silent, especially at an altitude of 600 meters of Tianchi surrounding by natural forest, birds around the flowers, with the annual average temperature of 19° C to 24.5 ° C. In summer, cool wind blow gently, the air is fresh contain high content of negative ions in the air, plant nutrients concentration is large, so it is a good healing summer resort.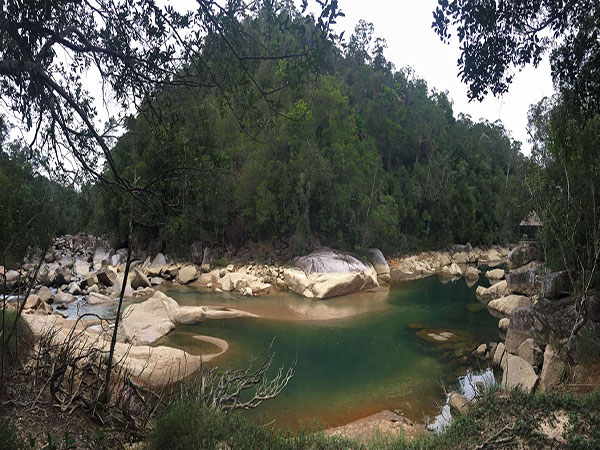 Characteristic
There is the living fossil of tree fern more than 200 million years ago. The medieval times plant Hainan cephalotaxus sinensis is a kind of precious anticancer plants expensive for dozens of times than gold, and tropical plants like adhesion and caulifory can be seen everywhere. Richness of plants bring prosperity of the animals. Wild animals more than 20 species, more than 150 kinds of birds, butterfly species is much more than "the butterfly kingdom" in Taiwan. UN experts evaluate after investigation: this is the most basic perfect tourist facilities of the first study of "man and biosphere" plan, it has a certain tourist reception capacity. Currently here launch "four wonders" eco-tourism line and ecotourism exploration line, place oneself in the park can enjoy the wonders of four sea (cloud sea, fog sea, forest sea and ocean), waterfall and flow creek, fragrant flowers, rare birds and animals, rainforest valleys, sands bay, and Li and Miao ethnic customs, etc. It is known as "China top ten most beautiful forest", "the world's top tourism resources", "the only national forest park mountain connected to the sea in China", "China's best preserved pristine tropical rain forest", "sea of clouds", "sea fog", "beautiful", "wonders of four sea". And it has 80000 negative oxygen ion airs per square centimeter.
Basic Information
【Best time to go】 November to April in the following year is the best time to visit, the rainy season from May to October, tourists must first preview local weather forecast, and otherwise the heavy rain makes the roads slippery, and occurs many mountain leeches.


【How to get Tropical rainforest of Jianfeng Mountain】 1. There is a flight to the Jianfeng town of charter bus from Haikou west station at 9 am every day, costs 46 Yuan, totally driving 4 hours, and the return time is around 4:00 to 5:00 in the morning. Or tourists can also take diresct bus from West Railway station to Ledong county or Hongliu town, the time is around 7:45 to 17:30, every 60 minutes a bus for 76 Yuan. But don't take to the terminal, tourists can get off at the west high-speed Jianfenglin Export, and then change to the Jianfeng town for four Yuan. Rent a jeep to go in the town attractions cost at least 40 Yuan, motorcycle or the car cost at least 30 Yuan, scenic spots tourism reception will arrange transfer service.

2. Starting from Sanya, tourists can take the bus to the Huangliu town, from 6:45 to 18:30, every 15 minutes a shift, cost 16 Yuan. From the town to scenic spots is the same step as above.


【Tips】 1. Bring some food and water up to the mountain; replenish power frequently on the road.

2. You can find a guide in the street center to ensure the mountain safety and avoid detours, price of about 200 Yuan.