Wuzhizhou Island is known as Guqizhou in ancient times. It is located 30km away from Sanya downtown and 38 kilometers from Sanya Fenghuang International Airport. It is north or Nanwan Monkey Island and south to Yalong Bay. The island is 2,500 meters long from east to west and 1,100 meters wide from south to north. The highest cliff in its eastern and southern part is 79.9 meters above the sea level, while its western and northern sections are flat covered with the snowy beach. There are more than 2,000 varieties of plants on the island. The sea area around the island, especially in the south, teems with intact corals. Except for the beautiful tropical landscape, the exciting aquatic sports are another choice to experience this island.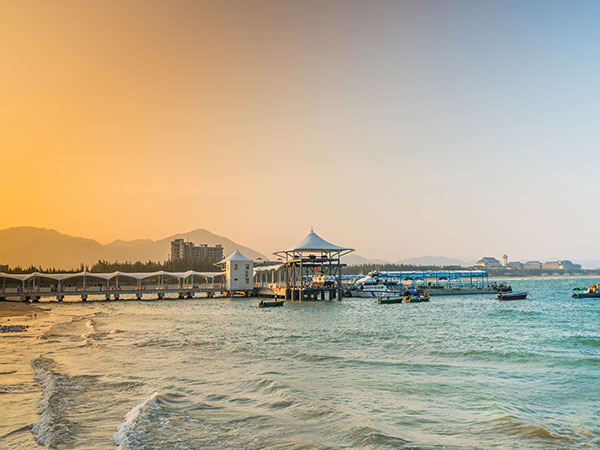 Highlights to See in the Island
【Lover Bridge】
The bridge is located right beside the wharf on the island. The Lover Bridge was used to be a steel cable bridge and was an Observatory Site for the troops on the island. While walking on this shaky steel cable bridge, it takes a lot of guts and courage. Some young ladies wanted to get to the end of Observatory Site to see what to see, but they were afraid of falling into the sea, so they would hold their boyfriends' hand tightly and never let it go. This is the story about the bridge. Afterwards, to take the safety of tourists into consideration, steel cable bridge was rebuilt to a plank bridge as it looks now.
【White Beach】
It is regarded as the Maldives in China. It got its name for its white and soft sand beach. The White Beach is the only beach by which you can swim. In other beach on the island, swimming is not allowed.
【Sun-view Rock】
White Beach is sited by a cliff at the southeast of Wuzhizhou Island. Standing on the rock, you can have a wonderful overview bird's-eye view of the island. This is also a perfect site to see sunrise in the morning. If you decide to stay over night to enjoy the sunrise, please inquire for the sunrise time in your hotel, they would be glad to offer you the info.
【Sea-view Gallery】
In the west side of the island, there is a coastal wooden corridor and platform. Tourists can walk along the corridor and platform to enjoy the fantastic sea view. Also, as there are many rocks in this area, you can see many crabs "walking" on the rocks. If you are lucky, you can also see crowds of tropical fish on the platform.
Except for the above sites, there are many other beautiful sites you can go, such wave-View Pavilion, Matsu Temple, zoo, etc.
What to Do in the in the Island
There are a lot of entertainment programs on the island for you to join in. Most of them are water sports, including diving, sea fishing, water skiing, sailing, motor boats, banana ship, sea umbrella and so on. There are more than water sports for you to have a close and exciting experience with the sea.
You can also rent an electro mobile to have a leisure trip around the island.
Travel Guide
【Chinese name】: 蜈支洲岛
【Best time to visit】: September to April in next year. The weather is cool with less rain or storm.
【How to get Wuzhizhou Island】: If you travel from Sanya downtown or Yalong Bay, you have to have taxi or bus to Wuzhizhou Wharf first, then transfer to a ferry to board the island.

► From Sanya downtown to Wuzhizhou Wharf: by Bus or taxi. You may take Bus Route No.28 to get off at Wuzhizhou Island Station or take Bus Route No.23 to Wuzhizhou Island Crossing Station from Sanya downtown.

► From Wuzhizhou Wharf to Wuzhizhou: by ferry. There are normal ferries and VIP ferries. Normal ferries travels every 20 minutes from 8:00 am to 4:00pm daily. The last ferry from Sanya to Wuzhizhou Island is at 16:00 and the last ferry from Wuzhizhou Island to Sanya is at 17:00. You may have to line up to board the ferry for normal ferries. If you take VIP ferry, you do not have to line up through VIP Tunnel. The VIP ferries leaves every 15 minutes from the wharf.