Nanwan Monkey Island is the only state-protected island nature reserve that protects macaque monkeys in China, as well as in the world. The money island is located in Lingshui County on the south coast of Hainan, the southernmost province of China. Taking a good position in the Hainan Island, this land is surrounded by the ocean in three sides. The perfect climate makes this island as a perfect habitat for monkeys. As the scenic area is located in a peninsula, if you want to get into the Monkey Island, you may need to take sightseeing cable car, or take a boat trip and then transfer to sightseeing shuttle bus to get to the central area of the scenic spot. Being 2138 meters (7014 feet) long at the speed of 6 meters per second, the ropeway is the longest oversea ropeway in China, which will take you to catch a wonderful view of the ocean, the neatly placed fishing rafts by the bank and the thick chains of mountains on the island with the birds gently singing and the monkeys' shouts reverberating around your ears. Soon the mythical monkey island unfolds his arms in front of you. It takes 8 to 10 minutes for one-way ride.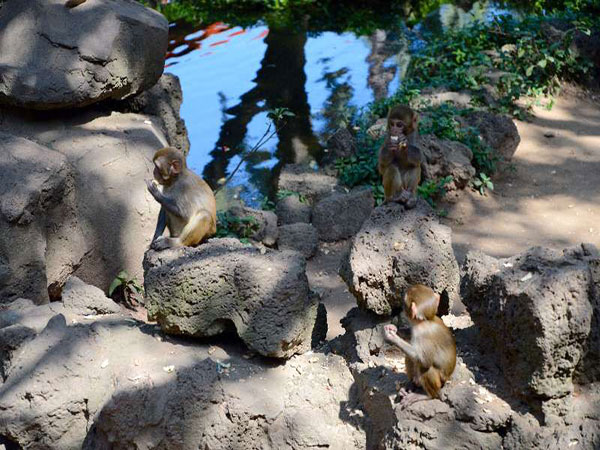 The reserve, totaling 1,000 hectares, is the largest area for raising and training monkeys in the country. Since the nature reserve was established in 1965, the reserve now has become a popular tourist destination near Sanya. On the island, there are several groups of monkeys have been domesticated. There are more than 2500 macaque monkeys on the island and they belong to class II protected specie in China. You can take photo for them or with them. When the monkey keeper feed them, monkeys will come by leaps and bounds once they hear the whistling. That is the best time for you to watch these monkeys. You can buy some nuts before you come to the island, and then you make friends with these monkeys easily by offering them the snacks.
On the island, you can appreciate the comic sketch and circus performed by the monkey. Besides, you can take the cableway to appreciate the scenery of the whole island.
Travel Guide
【Chinese name】: 南湾猴岛
【Best time to visit】: Suitable for all year around
【How to get there from Sanya】: You may take bus from Sanya Bus Station to Lingshui Bus Station (or you may take high speed train from Sanya Railway Station to Lingshui High-speed Railway Station) first, then transfer to local taxi to get to the entrance of Nanwan Monkey Island. And then you may take the cable car or boat to board the island.