Nanshan Temple is a Buddhist temple located in Sanya, Hainan Province, China. It is 40 kilometers (25 miles) from Sanya downtown. The temple is part of an area known as the Nanshan Buddhism Cultural Zone. Nanshan Temple is the home of the world tallest statue of Avalokitesvara "Guanyin", the goddess of infinite compassion and mercy in Buddhism. The grandiose statue of Avalokitesvara stands at a height of 108 meters, overlooking the waters of the South China Sea in front of Nanshan Mountain. The construction of it started in November, 1995 and finished in April, 1998, which took a total of 6 years to construct. The whole temple is 188 meters wide from east to west, 416 meters long from south to north. With its total floor space of 40,000 sq meters (10 acres), Nanshan Temple boasts several replicas of Tang Dynasty (618-907) architecture.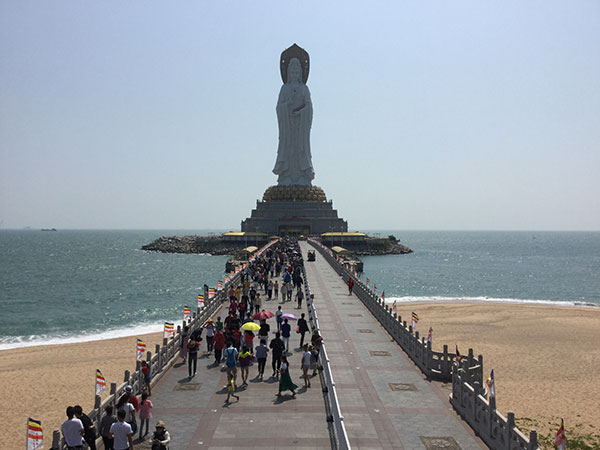 The temple nestles at the foot of Nanshan Mountain. The Nanshan Mountain is also believed to be the auspicious mountain of longevity in Chinese mythology. Take this opportunity to visit the tallest 'Guanyin' in the world here at Sanya. The buildings and Buddhist culture are the two highlights of the temple.
Tips: The vegetarian food in Nanshan Temple is quite famous, including many nutritious dishes made of toufu, seasonal vegetables, konjak, wild fungus and bean products.
Travel Guide
【Chinese name】: 南山寺
【Best time to visit】: November to April next year.
【How to get there in Sanya】: you may take Bus Route No.16 from Sanya downtown. Or taking a taxi is the most convenient (40 minutes' driving, cost CNY 60 to 80). If you travel from Yalong Bay, you can take新国线南山专线Sightseeing Bus (Yalong Bay-Nanshan Temple) directly.