Dadonghai Beach is one of Sanya cleanest beaches, situated about only 3 km from the center of the city and just off the main road. The beach close proximity to the city means that it can get very busy here, but this remains a pleasant and convenient spot to kick off your shoes, soak up the rays and swim in the sea.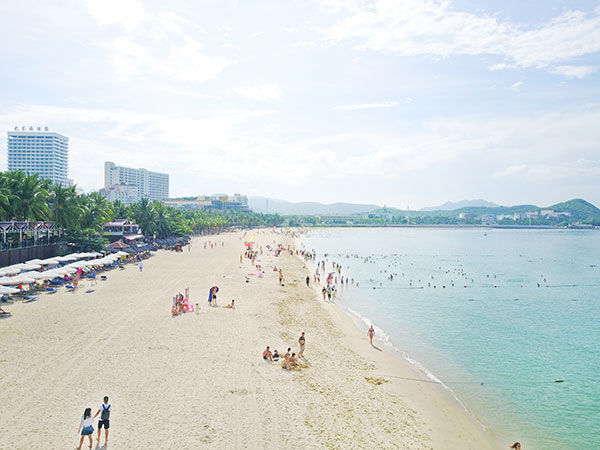 Like most of the beaches around Sanya, this is a truly tropical beach with 3 km of white sand curving round a crescent shaped bay, warm blue seas and palm trees. Facilities here are perfect too. Water sports are various and popular. You can do snorkeling, ride water scooter, do swimming, play beach volleyball, etc.
Eating and accommodation are quite convenient around the beach as well. There are numerous small restaurants and bars serving up tasty snacks and drinks. And along beach are all kinds of hotel and hostels for you to choose, from high-end deluxe hotel to cheap and clean hostels. It is particularly pleasant here in the evenings, when the sun sets and the crowds disperse.
Walk eastwards for about 300 meters, you will reach a coastal park, and there is sea-view pavilion on a hill top in the park, where you can have a bird view of the ocean. And there are famous Bailu Park and Luhuitou Park near the beach, which can be reached by public bus or tourist express bus nearby.
Travel Guide
【Chinese name】:大东海
【Best time to visit】: November to March next year.
【How to get to Dadonghai Beach】: as the nearest beach to Sanya downtown, Dadonghai Beach enjoys convenient public transport. You may take Bus Route No.4 or 15 and get off at Dadonghai Bus Station("大东海"站); or you may take Bus Route 2, 8, 15, 17, 18, 19, 24, 25, 28 and then get off at Dongdonghai Square Station ("大东海广场"站)