Taihu Lake is located in the boundary of
Jiangsu and Zhejiang provinces. Most of Taihu Lake Scenic Areas is located in south of Jiangsu Province, in the crossing Suzhou, Wuxi and Changzhou cities. The scenic areas available for tourists are mainly concentrated in the Western Hills Scenic Area and the Eastern Hills Scenic Area in Suzhou, and Tortoise Head Garden in Wuxi. Taihu Lake is the largest lake in the area of eastern coast line of China, as well as the second biggest fresh water lake. Taihu Lake area now has developed into the famous scenic spot in China. Taihu Lake is well-known for its beautiful scenery, which is represented by Tortoise Head Garden in Wuxi.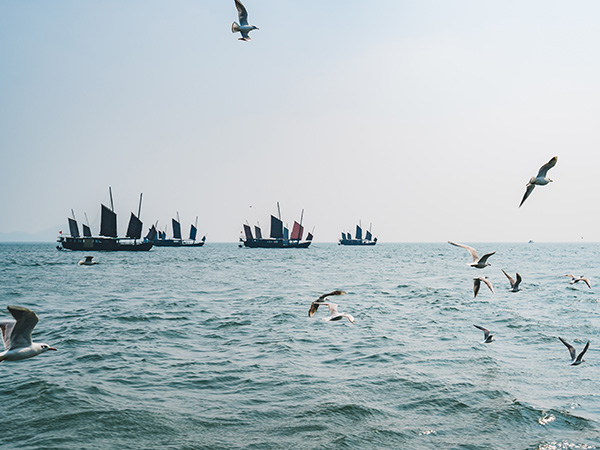 Taihu Lake is one of the first batches of 12 State-level tourism & resort districts approved by State Department, as well as one of the first batches of the demonstration district of tourism industry of WTO level. Some 90 islets, large or small, plus the presence of many fleets of fishing junk boats add to its landscape, making it a remarkable spectacle. The lake has its credit a thriving fishing industry as well as its ornamental limestone rocks that are native to no other place. These are much favored as accessories used in decorating
traditional Chinese gardens in China. Out of all the other islets, Turtle Head Islet is the place which is the most worth visiting.
Taihu Lake in Wuxi City
According to many guidebooks, Tai Lake is best seen from the scenic viewpoint in Xihui Park in the west of
Wuxi, from the top of Dragon Light Pagoda, from which both Wuxi and Lake Tai are visible. Another well-known panoramic view is from MountLongshan (or Mt. Long), where the famous ancient poet Su Shi (1037-1101) once wrote a poem.
Along the Taihu Lake, Wuxi government built up a Taihu Lake National Tourism Resort. In this resort, there are 57 peaks, 41 streams, and 38 bays. About 46% of this area is covered by forests with about 460 kinds of plants and hundreds of animals. This natural park is the product place of "Three Whites" of Taihu Lake – silver fish, white fish and white shrimp. About 17.5 km to Wuxi city, this resort is easily reached by bus and private coach within about 1.5 hours from downtown Wuxi.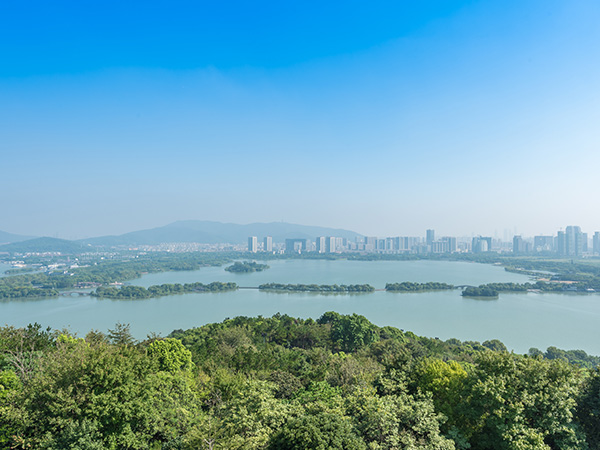 Travel Guide
【Chinese name】: 太湖


【Best time to visit】: March to May and September to early November is the best time to visit Taihu Lake. May to July is rainy season in Wuxi, but the spring view is quite attractive. September and October (autumn time) is the harvest season of Taihu Lake crabs, which is very famous in China. If you are a fan of having crabs, do not miss it when you visit here. The view in autumn is quite beautiful as well.