Jichang Garden locates on the east foot of Huishan Mountain, within Xihui Park area in Wuxi City, Jiangsu Province, China. It is one of the famous classical gardens in eastern China that covers an area of 2.5 acre. Built according to the mountain, it formed a long and narrow body. Focusing on hills and poops, Jichang Garden used "borrow scenery", "piling up rocks", "managing waters" such skills masterfully fully and set the garden apart from most other gardens in eastern China.
Jichang Garden, people also called it "Qin Garden" based on the surname of its owner. In Yuan Dynasty, it was a dormitory of monks. When the time reached Ming Dynasty (1506-1530), the offspring of famous poet Qin Guan bought the dormitory, then rebuilt and extended it as a villa-style garden, called "Fenggu Mountain Villa". After Qin Yao (another descendent of Qin's) was dismissed from his duty in 1591, the garden was renovated once more and renamed as Jichang Garden as we know today. Even Emperor Kangxi and Emperor Qianlong lavished praises on the garden and created poems and granted inscribed boards to show their appreciation. On his six tours to the south of the Yangtze River, Emperor Qianlong paid a visit to Jichang Garden every time he passed by Wuxi. In 1952, the descendant of the Qins, named Qin Lianggong, donated it to the state, and then the garden was restored by Wuxi Municipal People's Government, and gradually. On January 13, 1988 the State Council promulgated it as a national key cultural relics protection unit.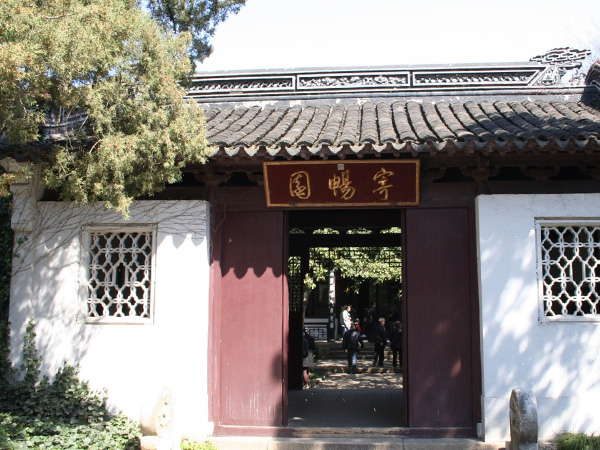 Thanks to the simple and serene mountainous atmosphere created with ingenious gardening techniques of rockery and water layout and the superb design of view borrowing, it is regarded as one of representative classical Chinese gardens in the southern China. The present Jichang Garden is composed of two parts: the rockery-dominated west and pool-dominated east. The rockery in the west is completely piled up with yellowish brown stones, modeling after the terrain of the Huishan Mountain. There is spring water runing through the rockery like mountain streams. The streaming sound is quite beautiful, just like an eight-note tune. That's why the spring got its nick name as "Eight-note Stream". Jinhui Rippling Pool is at the heart area of the Jichang Garden, surrounded by all the beautiful scenic spots of the garden. Reflections of hills and pagodas can be clearly seen in the pool with glistening light of waves. It is a classic example of view-borrowing gardening design.
Historic Owner of This Garden
Qin Jin, an all-important official of the Ming Dynasty, owned the garden when it was originally built during the Zhengde Reign (1506-1521). And it was named as Feng Gu Mountain Villa. After the death of Qin Jin, it is descended to his son Qin Liang and his nephew Qin Han. In 1560 in Qing Dynasty, Qin Han renovated the garden, diging pools and building rockery. After the death of Qin Liang, it was descended to his nephew Qin Yao. In 1591, Qin Yao was dismissed for some reasons, and he returned back to Wuxi and sent the feeling of depression in mountains and waters. He renovated and extended the garden. After a couple of times of repairs and expansions, it emerged to become one of the best gardens in the former states of Wu and Yue. The Qins, having owned the garden through the generations, finally donated it to the state in 1952.



Travel Guide
【Chinese name】: 寄畅园


【Best time to visit】: it is suitable for visiting all year around, best from March to June & September to October.


【How to get there】: You may take Bus Route 4, 15, 39, 43, 75, 76, 81, 83, 126, 139, 611 to Huishan Station(惠山站), then walk to Xihui Park(锡惠公园) through Guhua Gate(古华山门), continue to walk to Jichang Garden(寄畅园); or you may take Bus Route 2, 10, 26, 27, 39, 43, 56, 59, 71, 87, 89, 98 139, 158 207, 359 to Xihui Parr Station(锡惠公园), then walk northwards along Yunhe West Road for about 200 meters and you will reach the garden.