Liyuan Garden lies on the bank of Li Lake, 2.5 kilometers southwest of Wuxi, hence it got its name. It is said that Li Lake got its name from Fan Li, who was a senior official of the state of Yue and retired to his hometown after defeating the state of Wu. One day afternoon, he went boating with one of the most beautiful women in ancient China named Xi Shi, he decided to name the lake as Li Lake and the garden was later called Liyuan Garden.
The garden covers an area of 20.2 acres and is one of the most well-known lakeside gardens in southern China. It is noted for its fantastic water view – its waterscape accounting for fifths, thus this garden is designed as a framed landscape with water. It is, actually, a peninsula-like garden that facing water in 3 directions. During the early 20th century, an embryonic modal had been found, then since 1927, a series small-scale rebuilding and extension project had been made and formed the garden we see today.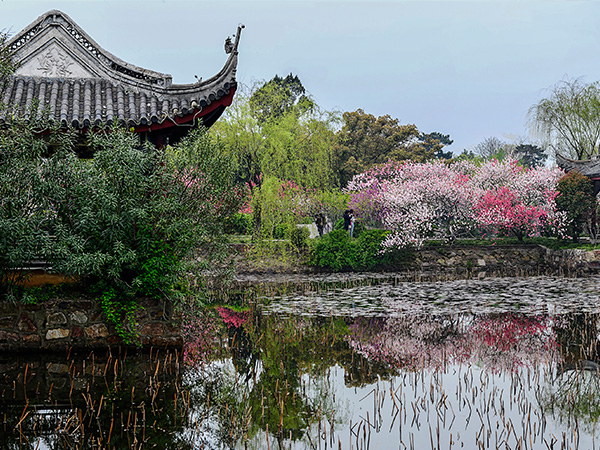 The garden is divided into three sections: a landscaped section of hills, rockery and paths in the center area, which is flanked by other two areas where pavilions, lakeside causeway, corridors and rockeries have been built and carefully planted with fragrant blossoming plants.
Pass through the front gate, which remains it original plain look, you will find yourself step into an entrance hall, with walled corridor and rockery screen, then, it leads suddenly into an open space. Welcome to the Liyuan Garden. You can visit Flowery House, Huanfang Gallery and Four Seasons Pagoda and several small clear ponds. In the evening, if you are interested, you can join the Night Cruise and enjoy a different garden with Nero lights.
If you are going to visit Wuxi and want to see classic gardens of China, but do not have spare time to visit other places, Liyuan Garden would be a good choice.



Travel Guide
【Chinese name】: 蠡园


【Best time to visit】: It is fit for visit all year around, best time is from March to May and September to early November.


【How to get there】: You may take Bus Route 1, 9, 20, 82, 211, 315, then get off at Liyuan Station (蠡园), of which Bus Route 1, 20 82, 211 is available in front of Wuxi Railway Station.