Yalong Bay, also known as the Yalong Bay National Resort, is located about 25 km southeast of Sanya City, Hainan Province, China. Yalong Bay centers on a crescent-shaped sandy white beach of about 7,000 meters. The sea water in Yalong Bay is the cleanest among beaches in Sanya. The sea off the beach is so clear that visibility can reach almost 10 meters, making it ideal for divers who are attracted to the nearby coral reef. Yalong Bay enjoys a mild climate throughout the year, with no distinct seasons and long stretches of warm spells. The average temperature year-round is 25.5 C.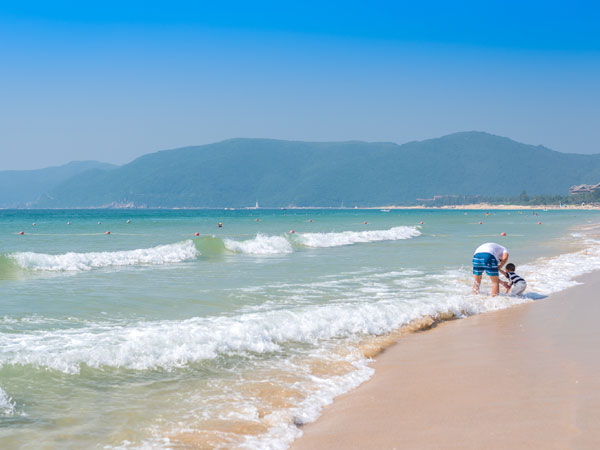 The Yalong Bay is famous for its picturesque scenery as well as blue skies, warm sunlight, fresh moist air, rolling green hills, primeval forests, calm bay, limpid seawater, and multi-colored seabed landscape. Moreover, along the coastline grow multitudinous strange flowers and grasses and primitive tropical vegetation while several vacation hotels are scattered in the area, which shines like a radiant pearl along Yalong Bay.
Known as No.1 Beach in Sanya, Yalong Bay National Resort is the premier destination for a leisure vacation, providing visitors with an irresistible combination of a world-class beach, remarkable swimming and diving, international resorts and superb golf facilities in one extraordinary package. It is a gathering place of many international five star hotel resorts in Sanya.
Main Attractions to See near to Yalong Bay
【National Resort Center】
The National Resort Center covers an area of 18.6 square kilometers. It is a coastal park gathering luxury villa resorts, conference centers, upscale hotels, submarine view, sea sports center, golf courses, yacht clubs, etc.
【Yalong Bay Central Square】
The square is surrounded by mountains on three sides, and the other side faces the sea with a crescent-shaped look. It is a good place for cliff climbing and many water sports. There is a 27-meter high totem-pole in the middle of the square, which is the landmark of the square. And there are also four steepled tents in the square, looking like four white sails.
【Yalong Bay Tropical Paradise Forest Park】
Yalong Bay Tropical Paradise Forest Park covers an area of 1506 hectares. It is the first forest park in Sanya. The park can carry out mountaineering expeditions, leisure activities, health vacation, folk culture experience, etc. As the forest coverage rate is quite high in the park, it got its nick names as natural forest oxygen bar.

【Shell Museum & Butterfly Valley】
Yalong Bay Butterfly Valley is located in the north of Yalong Bay National Resort. Walk into the butterfly-shaped butterfly exhibition hall, you will get to see all kinds of colorful butterflies showed in five galleries. Every beautiful!
Yalong Bay Shell Museum is located at beside the Central Square. It covers an area of 3,000 square meters and is the first themed museum with shells. In the museum, there are 5 different exhibition halls, showing more than 300 kinds of typical representative shells. The two places are suitable for families visit wit kids.
Travel Guide
【Chinese name】: 亚龙湾
【Best time to visit】: September to April next year.
【How to get to Yalong Bay in Sanya】: although Yalong Bay is a little far from Sanya downtown and Sanya airport, it is not hard to get there by public transport.
► From Sanya Phoenix International Airport: it is about 40 kilometers from Yalong Bay to Sanya Phoenix International Airport. One bus route of particular use for visitors is the Bus Route 27 which serves between Sanya Phoenix International Airport and Yalong Bay. You should get off at Yalong Bay Central Square. It takes about 2 hours for one-way journey.
► From Sanya downtown: There are many tourists express buses traveling from Sanya downtown to Yalong Bay. You may hop up the bus at Sanya City Hospital of Traditional Chinese Medicine Station. Or you may take Public Bus Route No.15 or 24 to get there.
In addition the Number 25 and 16 buses run regularly between Nanshan Temple and Yalong Bay, their routes passing through downtown Sanya and Dadonghai.