Brief Introduction
Suobuya stone forest is the world's first Ordovician stone forest and is an AAAA grade China national tourist attraction. It is located 54km north to Enshi City, Hubei province in central China. It is dubbed as China's second largest Stone Forest (the first is the stone forest in Kunming, Yunnan Province, Southwest China) and a must-do destination for avid tourists to the Three Gorges of the Yangtze River. Covering a total area of 21 square kilometers, it's average altitude is more than 900 meters. The scenic area's shape if looked in bird view, it is like a huge gourd, surrounded by green screens and peaks. Suobuya Stone Forest is the second biggest of its kind in China, with vegetation ranking No.1 nationwide. And this is what distinguishes itself outside the other karst formations in southwest China. Suobuya stone forest is vastly dotted with vegetations as if it wore a cap, hence the name "the capped stone forest".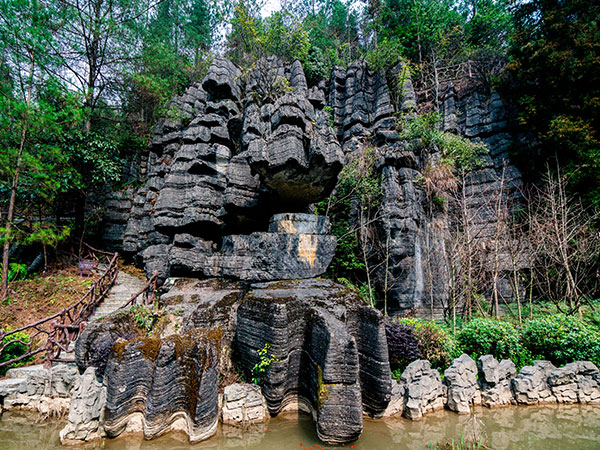 There are more than 100 classic natural scenes in the Suobuya Stone Forest. The Orsun Co. which is the operator and developer of Suobuya would invest 15 billion Yuan to upgrade the Suobuya Stone Forest scenic area. At present, there are four main scenic spots open to the public. They are Qinglong temple, Lianhua village, Mozi Gully and Jiulonghui. Each scenic spot has its own characteristics and fossils were often found here, it is truly an amazing natural ancient geological landscape museum. Besides, many attractions centered on sports and adventure will also be available. Tourists will get a chance to explore the stone forest and the river valley. In addition, scientific educational attractions like the 4D cinema and fossil museum will be built. Suobuya offers both beautiful natural scenery and fascinating folk custom. Twenty nine ethnic groups including the Tujia, Miao and Dong have created a colorful and splendid ethnic culture around this area.
Location of the Suobuya Stone Forest
Suobuya Stone Forest locates 54km north to Enshi City, Hubei Province China.
Address in Chinese: 湖北省恩施市太阳河乡梭布垭石林
Address in English: Taiyanghe County, Enshi, Hubei Province, China.
How it was formed?
Suobuya stone forest, its limestone sediments formed more than 460 million years ago, corded by water, gradually developed into different layers with horizontal textures.
Why it is named "Suobuya"?
There was an interesting story about how the place got its name. Legend goes in ancient time, the King of Xiang united five different tribes of Ba people and became their captain. One day he came across a place with three strategically significant mountain passes in a row. So the captain named this place "Suobuya", because in Ba language, "sobu" means"three"and"ya" means "mountain pass".
What to expect? Attractions of Suobuya Stone Forest
Qinglong Temple——青龙寺

Qinglong Temple scenic spot area was named after Qinglong temple. The temple was once destroyed by natural lighting fire after it was built over a thousand years. Now Qinglong temple is rebuilt and admired by visitors quite popularly. Qinglong temple scenic spot is the biggest attraction among the four main attractions of Suobuya. The scenes you can't miss here are the Qinglong temple ruins and Camel Hill.

Jiulonghui——九龙汇

Jiulonghui namely means nine dragons gathering, the attraction named this because of the natural energy here is perfect, you will feel like being blessed by the heaven, just like nine dragons guarding and blessing this area. The vegetation coverage of here is amazing. The scenes you can't miss here are Jiulong waterfall, etc. If the day you travel here start to rain, you are lucky! You will be able to see the rain water being pouring down from the Jiulong waterfall from the sky, just like a glass of champing poured by the heaven.

Lianhua village——莲花寨

The stone forest in Lianhua village is densely distributed. The whole scenic area takes stone lotus as the flower and the green tree as the spring. It is like a white lotus born in the green spring, and the lotus flower is flickering among the thousands of miles. Among them, stone lily is everywhere and you can not miss. There is a little square in Lianhua village, in this square you can have a good view of the whole spot.
Mozi Gully——磨子沟

Mozi Gully area,its main seeing are natural caves and limestone. There are beautiful flowers blossoming and lovely birds flying among the trees, different peaks and canyons. Legend goes that the Tujia ancestor couple——Nuo Gong and Nuo Po had fell in love and lived here. So it is often described as the original place of Tujia people in China.

Normally, after you entry the Suobuya scenic area, there will be an environmental friendly battery car taking you around this four main attractions, and the turn will be Qinglong temple as the first stop , then Lianhua Village, then Mozi Gully and Jiulonghui is the last stop.

Tujia Girls Festival——土家女儿会

The annual Tujia girls festival (lunar calendar July 12th, which will be around middle August every year), is a shopping festival but also kind of a festival for Tujia people's girls choosing their future husbands, a dating festival so to speak. During this festival, girls at marriage ages would dress pretty and go shopping to market fare, while they are shopping, there are good chances for them to meet their Mr. Right on the market. Singing, dancing and feast are involved during the festival, this is great time to experience the Tujia people festival traditions and fascinating folk custom.

Transportation & How to get to the Suobuya Stone Forest?
By Air (not recommended): fly to En Shi Airport, it is not cheap, and you would also need to transfer flight, there aren't any direct flights.
By High Speed Train (recommended): travel from Wuhan, the capital city of Hubei Province to Enshi city is very convenient.
By Bus: Enshi Guabangyan station or Enshi Railway Station, they all have tourism bus heading directly to the Suobuya Stone Forest scenic area. The ticket fare is about 25 yuan per person and the journey takes about 1.5 hours (road condition is not perfect consider it is mountain area).
Travel Tips and Notice for Visiting Suobuya Stone Forest
Tickets fare: 60 yuan / person;
Mountaineering shoes or jogging shoes is advised to wear.
Restaurants in scenic spot are quite expensive, snacks and energy bar or eat outside the scenic area before entry are advised if you are travel on a budget.
Opening time: 8:30-18:30, after 15:30 they will only allow visitors exit rather than entry any more.
There is no mandatory requirement for tourists of they must leave on the same day they entry, but it is suggested that the tour should be concluded before dark. Because of the larger scenic spots and complicated routes, it is easy to get lost at night.
If you want to stay in the scenic spot, no matter how many days you stay, you only need to purchase ticket once. When entering and exiting the scenic area several times, you only need to show them your hotel room card.