Enshi Grand Canyon is located in Enshi Tujia and Miao Autonomous Prefecture, Hubei Province, China. Enshi is 530 kilometers west of Wuhan, which is the provincial capital of Hubei. According to CNN official portal, One Incense Pillar of Enshi Canyon is listed as one of 40 most beautiful scenic spots in China recently by CNN. The selection of CNN this time is to choose the most representative among different natural and cultural landscapes; some of them are listed in the directory of world cultural heritage. "As far as spectacular is concerned, this one is as marvelous as the Colorado Grand Canyon of the USA. However, it is matchless in terms of beauty." Western tourists speak highly of the canyon's clean water, marvelous waterfalls and peaks. It is bordered by Zhangjiajie National Forest Park in the south, Yangtze Three Gorges in the north, and in neighborhood of Yichang City in the east. Its precipices stretch as long as hundreds of miles.
Enshi Grand Canyon
Enshi Grand Canyon Passenger Cableway is the first single-line loop cableway in the scenic area. It runs from Yunlong Rive Bridge to Xiaoloument. There are only two stations along the cableway. The upper station is sited in Xiaoloument, which has an elevation of 1641 meters, while the lower station is sited in the eastern side of Yunlong Rive Bridge, which has an elevation of 841 meters. This cableway has a length of 2284 m; the whole way has a drop height of 792 m. a car can only take maximal 8 people for each time and there are a total of 61 cable cars along the cableway. The maximum operating speed of it is 6 m/sec.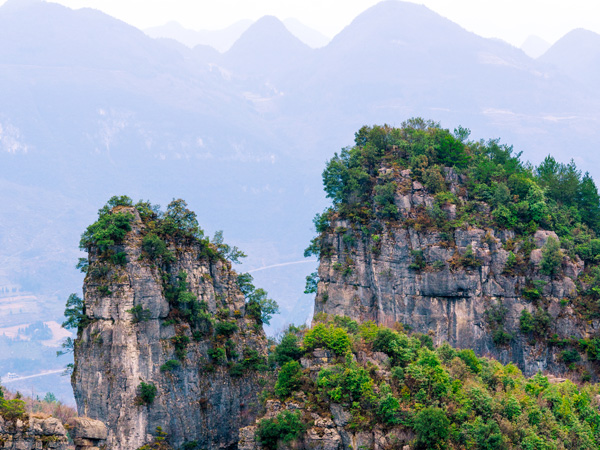 What to see in Enshi Canyon
【One Incense Pillar】One Incense Pillar is a karst pillar standing between the cliffs and peaks of the 108-kilometer-long Enshi Canyon. This incense stick-shaped peak is 150 meters tall, but only four meters wide, which maks it incredible that it stands at all, let alone that it's survived several major earthquakes. Local legend holds that the pillar is a piece of incense given by a deity to the ingenious Tujia people. The residents could light it in times of disaster and the deity would descend to help.
【Long Corridor at the Cliff】
Long Corridor at the Cliff is a plank road built along the face of a cliff. It was built in October 2007. It has a length of 488 meters and 118 steps. It is located at an altitude of 1,700 meters, at the cliff on the waist of the mountain. When you tour along the cliff, you can enjoy the fantastic scenery of the canyon on the way. The plank road is crooked for s couple of times.
【Bowing Pine Tree】
Bowing Pine Tree is a representative of the five wonders in the canyon. There is a saying: "There is no peak group if there are cliffs, or there is no cliff if there is peak group". "Welcoming Pine Tree" in Yellow Mountain is world-famous, with opening arms and smile to welcome tourists from home and abroad. Bowing Pine Tree in this place is on behalf of the hospitality Tujia and Miao people, bowing deeply to welcome or escorting visitors from different places.

How to Get to Enshi Canyon
Visitors may take scheduled flights to arrive at Enshi from Wuhan (two flights/day), Yichang (two flights/week), and Chongqing (two flights/week).
Scheduled buses leave directly for the canyon from Enshi Long Distance Bus Station on Hangkong Road in Enshi. The buses depart at the station every 50 minutes and the journey takes about 1 to 2 hours.
Passengers may board non-stop trains at Wuhan or Chongqing to Enshi. They may also travel via expressways.
Taxi services are cheap in downtown Enshi. It is a 60 kilometers drive from the downtown area to Mufu Grand Canyon.