Tenglong Cave Scenic Spot, 6 km from the city of Lichuan city, a total area of 69 square kilometers, integrated with mountains, water, cave, forest, with strange, quiet, beautiful. The entrance of cave is 74 meters high, 64 meters wide, 235 meters as the zenith, preliminary proved a total length 52.8 km, tunnel length of 16.8 km, cave area of more than 200 square meters.



One of the biggest karst caves in China, one of the special grade caves in the world. 6 km from Lichuan city suburbs, tickets for 180 Yuan. Dry hole at 59.8 miles in the length, the cave is 74 meters high, 64 meters wide, is the first drought hole in Asia. The cave absorbs the Qingjiang River, forming 23 meters high waterfall, therefore Qingjiang River become a 16.8 km long underground stream. With only a wall between the water cave and dry cave, in the 2008 earthquake, they were damaged by varying degrees, and they are under repair.
Structure
Tenglong Cave Scenic Spot consist of the water cave, dry cave, carp cave, breeze cave, and Dujia village and three dragon gate, such as the whole cave system is very complex, the total volume is the first in the world, is China's best tourism caves, in October 2005 awarded by the China national geographic magazine as "the most beautiful place in China".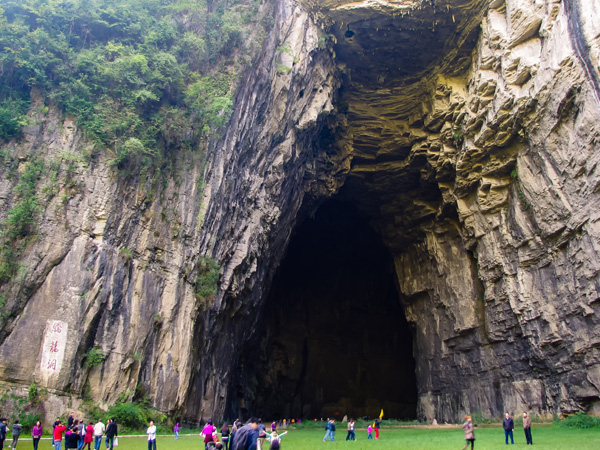 Tenglong Cave park has a total area of 69 square kilometers, the southwest derives from the entrance Tenglong cave, connected with Mingyan gorge canyon scenic spot; Northwest to the black hole, connect with Xuezhao river canyon scenic spot, on the whole it distribute from southwest to northeast, is an extension along Qingjiang river valley of long and narrow area. Areas are in the 1000 meters above sea level. The developed main scenic spots are two: one is Tenglong dry cave scenic area; another is water cave scenic spot. The cavern group of Tenglong Cave has a total of five layers from top to bottom, the number of cave is more than 300. There are five peaks in the cave, 10 halls, more than 10 underground waterfalls, no poison air, no snakes and scorpions, no pollution, with a constant temperature 14 to 18
℃.
Attention
After enter into the cave, pay attention to safety, do not go into caves immediately once you see it so as not to get lost. Tourists shall obey management personnel warning. Visiting Tenglong Cave have better take a flashlight, it is useful. Inside the cave, the constant temperature is 14 to 18
℃, generally a coat and a T-shirt is fine. And in the cave there are clothes for rent, but clothes don't look good. It's about 3 hours for visit, and in the performance area have a shop, you can replenish water and food there. Tourists can also take electromobile (ticket includes round-trip, please keep it and do not lose it).If visit by walk, may need a long time, pay attention to slippery and don't go to the electromobile lane, the high speed of mobile will easily hurt you. Suggest carry an umbrella on rainy days; in case the dripping from the top of cave! Laser show is about 20 minutes, large singing and dancing performance is 1 hour or so, pay attention to arrange time.


Transport
【Passenger car】

In Lichuan city, there are bus to Tenglong Cave in East Gate and West Gate. Other way: from e Enshi to Lichuan drive 2 hours by bus, 318 national road traffic is very good, 15 Yuan for tolls; the bus price is of the 25 Yuan/person.
【Taxi】

In addition to self drive from Lichuan to Tenglong Cave, taxi is the most convenient, cost 10 Yuan, and drive about 15 minutes. West Gate has all cars to Tenglong Private car cost 5 Yuan/person, it should be noted that car-pooling take only 2 Yuan/person.