Chang Family's Compound is located in the Chewang Village in Dongyang Town, Shanxi Province. Chang Family developed a school of its own of confucian businessman culture, both had Jinshi, Juren, Xiucai, and no lack of famous painting and calligraphy family member. So in their mansion building, they also had their own special original place, which was too far behind to catch up with by the mansion of Jin-merchants.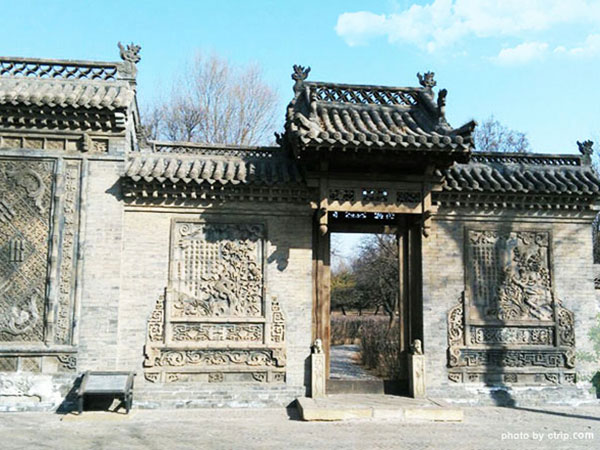 This manor is too grand to imagine. Go across the arched bridge, through the castle door, you can see a more than 650 meters long ancient street of Qing Dynasty. This street has no horizontal channels, covering an area of more than 0.6 million square meters, housing more than 4000 rooms, more than 50 buildings and 13 gardens.
Each compound had built a wooden architecture archway with brick tracery wall on each side, making the northern courtyard add some feeling of southern gardens. It has the garden, vegetable farm, wicket interlinked with each courtyard. Get into the garden and go through the paved path, you can find ambulatory, pavilions, small bridges and flowing water, or grass stone farmhouse, odd flowers; all these have great originality and are like the southern garden.
In each compound, there are coloured drawing on the rick carvings, wood carvings, stone carvings and timber compoment. The stone carving art in this compound has guardrail, door beast, curtain wall, etc…, mostly made of fine sand stone carving, and engraved with all sorts of design. They have unique style with rough dinas, fine and smooth carver, ever-changing patterns, varied modelling technique, making tourists dazzle the eyes.