Zishou Temple, commonly known as Suxi temple, is located in the Lingshi County in Shanxi Province. Behind this temple, there are continuous green hills; in front of this temple, there is flowing stream. It is really a rare place with wonderful scenery in SanJin's ancient building group. The existing building, which was rebuild in the Ming dynasty, covering an area of 3000 square meters. And all the ancient building group are wood structure.
The top of this temple's house has three color glazed tile which is very magnificent while looking from a distance. The main building is about 896 square meters. Getting started there is a more than 20 meters brick surround gallery road, the low and high gradually stretch to yard. The buildings are two floors type structure; and the main seiko is in upper. On the top, there are grey ridge, green beast hang on the tile , cornices all round, eight columns; forming a ambulatory style. Having a bird 's-eye view, you can see the whole temple landscape.
The houses in this temple are divided into the forecourt and the backyard. The main building of the forecourt is the Hall of Heavenly Kings. Located here, the first view is four black matrix with golden Chinese words"Shan Lin Ye Qu" on the forehead of the hall written by Mr. Fu Shan, giving a person a kind of majestic tall and straight impression. On both sides of the house has four heavenly Kings and statue; they are 3 meters in height. The characters's face is vivid and full with strong modelling lifelike and rich ancient samurai powerful image characteristics.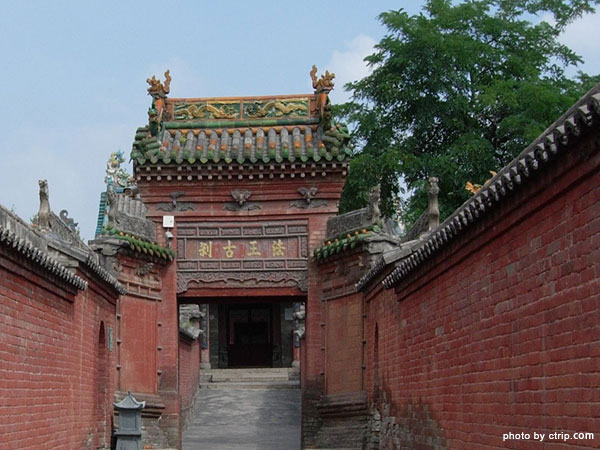 The backyard is relatively capacious. In the middle, there is Daxiong Leiyin Hall which echos each other at a distance with the Hall of Heavenly Kings. This is the main hall of the whole Zishou Temple. Inside this hall, there are statues of Shakyamuni, Amitabha, King of the Inferno and so on. The painted sculpture, drawing carving, structure system in the backyard each has its wonderful and unique place.