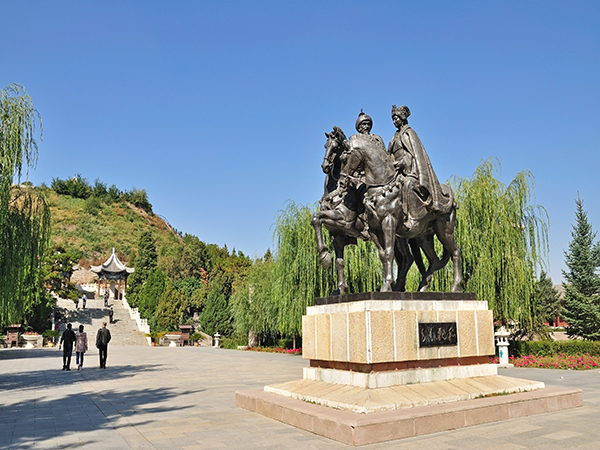 Zhaojun Tomb, or called the Tomb of Wang Zhaojun, is said to be the resting place of the famous historic princess Wang Zhaojun whose husband was a Xiongnu Chanyu. This site is located by the Da Hi River nine kilometers south of Hohhot, Inner Mongolia. Built in the West Han Dynasty, this tomb has more than 2,000 years' history and now is regarded as one of the national cultural heritage in China. The cemetery is 13,000 m², with a 33 metre mound containing Zhaojun's coffin, making it a landmark of the region.
About Wang Zhaojun
In fact this is not the reason it became famous, but because of the lady Wang Zhaojun. Wang Zhaojun, a daughter of a Han family, was elected to enter the imperial palace because of her beauty in the Western Han Dynasty (206BC-24AD). In the year 33 BC Hu Yan Ye Chan Yu, the Emperor of Xiongnu, an ethnic group country, came to ask for her hand in marriage in order to have friendly relations with Han. Zhaojun then married herself off to the grasslands of her own free will; this is called Zhaojun Chu Sai meaning Zhaojun went out beyond the Great Wall, which is a very important incident that happened in the history of Han and Xiongnu.
Wang Zhaojun lived in Hun for the rest of her life. Her children continued her work of forging a friendly and amicable relationship between the Han and the Hun. The story of Zhaojun's Settlement Way beyond the Great Wall has become a household tale in the history of the friendship and unity among Chinese nationalities as well as a popular subject in Chinese poetry, drama and novels. Today, her tomb at Hohhot in Inner Mongolia was one of the eight special scenery spots in present Inner Mongolia, which was built by the Huns of olden times in memory of this goodwill envoy from the Han.
Green Mound
The local Mongols call Zhaojun Tomb as Temür Urkhu (meaning "Iron Wall") but it is more commonly known as the Green Mound, owing to the belief that in autumn when the surrounding trees and grasses wither, the grass covering the Zhaojun Tomb remains lush.
In Mongolian language, Hohhot means "green city" which is said derived from the Green Mound. And Zhaojun Tomb, one of the Green Mounds in Hohhot, became top eight sceneries in Hohhot. The charming surroundings, reflecting the fantastic sunrise and sunset, change all the time with unimaginable scenes in one day.