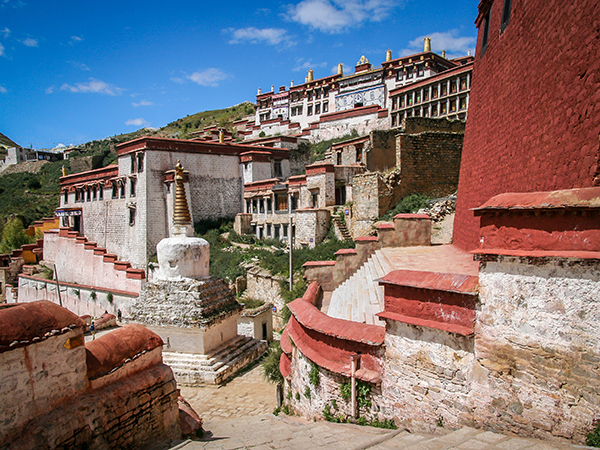 Dazhao Temple is located in the northern Hohhot. Built in 1580, it is the first Lamaism Temple in Hohhot. And originally set the silver Buddha figure of Sakyamuni, the lamasery was called silver Buddha figure temple in the ancient time.
The temple covers an area of 30,000 square meters, with the construction area of more than 8,000 square meters. The main architectures in Dazhao Temple are the main gate, the Heavenly King Palace, the Bodhi Palace, the Scripture Hall and the Buddha Hall. The Scripture Hall and the Buddha Hall are well connected, and so called the Grand Hall.
The temple is now a well-known tourist attraction because of the impressive buildings, splendid statues, delicate frescos, musical instruments and fine collection of Buddhist scriptures. Of its abundant religious relics perhaps the most notable are the "Three Marvelous Treasures", a title given to the Silver Buddha, the carved dragons on the huge golden pillars on either side of the statue and the murals commemorating the Emperor's visit.
Treasures in Dazhao Temple
There are three famous treasures in Dazhao Temple, namely, the silver Buddha figure, the dragon carvings, and the wall paintings. All of them are the historic treasures in Ming Dynasty with high art and appreciation values.
【Silver Buddha Figure】
The silver Buddha figure refers to the state of Sakyamuni which is set in the main hall. This state has a history more than 400 years, as one of the biggest silver Buddha figure n China. With a height of 3 meters, the figure is in a sitting posture.
【Dragon Carvings】
Dragon carvings refer to the two golden dragons which are set on both sides of the silver Buddha figure. These two dragons are carved on the mail pillars of the hall. The lively figure and the splendid atmosphere are symbols of the elaborate skill of artists.
【Wall Paintings】
Wall paintings are very outstanding in Dazhao Temple. The rich contents, colorful descriptions and lively pictures in these paintings tell visitors various Buddhism stories in an interesting method. These elaborate wall paintings show the professional skills of artists in Ming Dynasty. And they are still kept well till now since the ancient time.