Yangdi Village is located at the north part of Yansgshuo County. Yangdi scenic area is from Yangdi Guanyan Village towards south to
Xingping Scenic Area. The scenic area extends about 18 km along the
Li River which is the scream of the landscape of Li River. Yangdi Village is only 12 km away from the secondary road of Guilin. For the water way, it is about 46 km to Guilin and 47 to Yangshuo. When Li River is in dry season, the section from Guilin to Yangdi is not open for boats and Yangdi becomes the starting point of Li River Cruise. Yangdi Village is typical karst mountain area. Far away from the noise of the city and the pollution of modern industry, Yangdi is a good place for tourists to have a rest. Li River of the Yangdi section is winding. The water is so green and many scenic spots along this section. Han Yu, a well-known poet in the Tang Dynasty (618-907 AD) wrote these verses about the River "the river winds like a ribbon of the blue silk, hills tower like hairpins of green jade". Belongs to typical karst landscape, Yangdi Village has lots of mountains but few field. There are several scenic spots in Yangdi Village.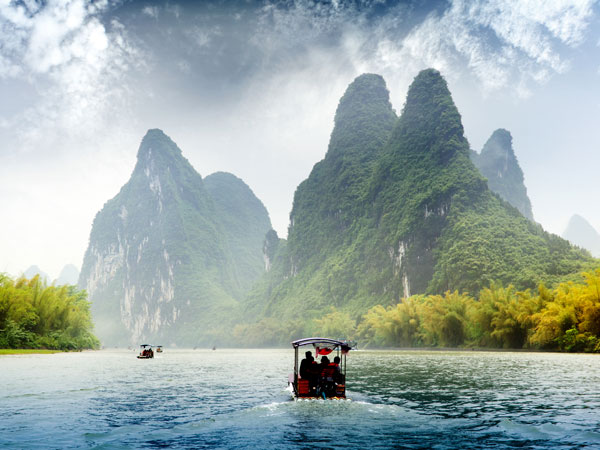 Yangdi Village Scenic Spots
【Jinji Hill】 Jinji Hill, or Golden Coke Hill, located at the north part of the village, just looks like a cock pecking rice. At the east part of the village, there is a White Tiger Hill, with waterfall falls down, the water drops just like the rice.
【Gold Mountain】 Behind Yangdi Village there is a mountain consisting of 4 summits, which is named Gold Mountain. The derivation of the name of the Mountain has two kinds of legends. One is said that before liberation, the archeologists climbed to the highest summit and found gold, drug and stolen back. Some heard that there were gold on the mountain, hence the name. The other is said there is rich reservation of calcite mine which is very valuable, hence the name.
【Moonlight Island】 Along the river, passing Shuangquan Sands and Luogu Sands for bout 2.5 km, you will see a small island, covering a area of over 200 mu. Looking from sky, it just looks like a crescent reflecting in the Li River, that is why it is named Moonlight Island. There are luxuriant trees on the island; the grassland here is thick and soft.