Highlights of Yangshuo Shangri-la

– Yangshuo Shangri-la is wonderland with happiness and ideal life style for Chinese people in many poems.

– Rich folk ethnic culture and custom


Yangshuo Shangri-la is located 44 km away from Guilin and 16 km from Yansgshuo. The Yangshuo Shangri-la combines the ancient bridge, flowing water, countryside, ancient village and ethnic group culture. The scenic spot mainly consists of Lotus Pond, Swallow Lake, Swallow Cave, Dong Village, primitive tribe and Yuanming Villa. In China, Shangri-la is wonderland with happiness and ideal life style. Yangshuo Shangri-la is one of this place which near Guilin and Yangshuo County. It just needs about 15min to drive to Yangshuo County from the Shangri-la. It is just like a simple girl standing by the road. Walking into the Peach Blossom Village, the beautiful landscape pastoral scenery presents in front of you. Water waves on the Swallow Lake reflecting the willow lines along the lake bank.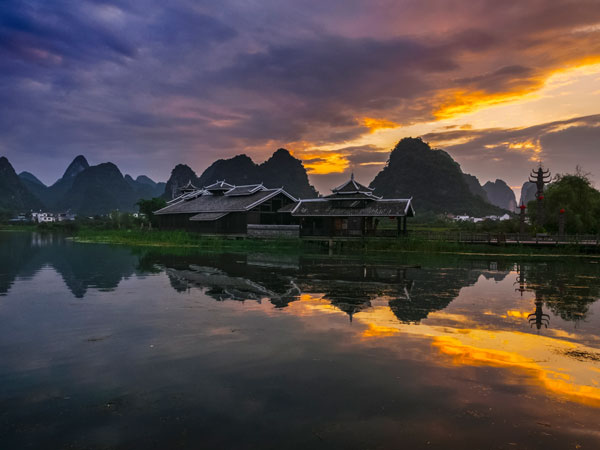 Folk Ethnic Culture and Custom
There are living the ethnic groups. You can see many folk customs of them such as:
Dong Ethnic Song: A polyphonic type multi part chorus without accompany.
Zhuang Embroidered Ball: a mascot of Zhuang People which represents love. The embroidered balls are made by Zhuang girls.
Miao Embroidery: embroidery of Miao people. It is embroidered just by the memory of patterns of the people. For one tie, it needs a about 26 days or 1 mouth to finish.
Yao
People Dance: as living in mountain, and there are lots of bamboos. The Yao people cut some bamboo as one of the tool for dancing and design lots of bamboo dances. There are also other ethnic specialties and activities besides above waiting for your exportation.

Yuanming Villa
Yuanming Villa is a architecture of north Guilin style. It is a place introducing the life and poems of Tao Yuanming, a famous poet of eastern Jin Dynasty. It is a garden scenic spots with rich local characteristics. Pavilions and terraces connect each other and are surrounded by green trees and beautiful flowers. Groups of fish swim in the water.



The best time to visit is from April to October.