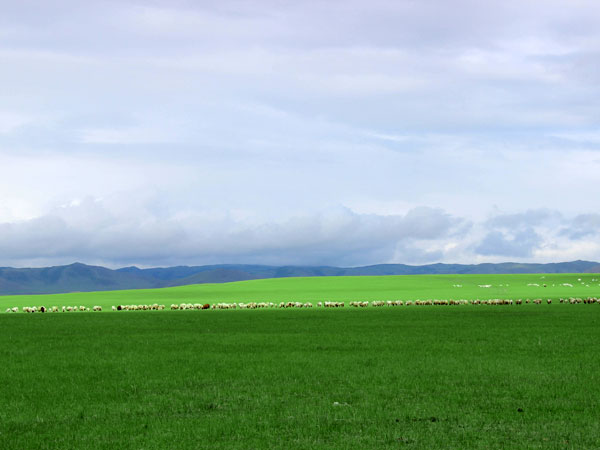 Xilingol is Mongolian, meaning Foothills River. Combining in Xilinhot City,
Inner Mongolia autonomous region, covering an area of 1.0786 million hectares, established with the approval of the Inner Mongolia autonomous region people's government in 1985 and in 1987 was accepted by the United Nations educational, scientific and cultural organization as member of "international biosphere reserve network", in 1997 promoted to national level. The main object of protection is for the sparse forest grassland meadow steppe, typical steppe and sand and river wetland ecosystem. It is one of the world famous prairies, and it is one of the four major grasslands in China-the main natural grassland of Inner Mongolia grassland. On October 23, 2005, the most beautiful place in China list published in Beijing and the Xilingol Grassland was selected of China's most beautiful six prairies.
Xilingol Grassland (Chinese name: 锡林郭勒大草原), which means "rivers on the highlands", is located in Xilinhot City, center of Inner Mongolia. Covering more than 10,786 square kilometers, the grassland is considered one of the most representative grasslands in a temperate climate zone in China. It consists of marshlands, grasslands, sand dunes, and wetlands, with over 1,200 plants growing on the grasslands.


Environment
Xilingol Grassland vegetation type is various, and also has abundant plant species which provides a good ecological environment for the development of animal husbandry. Xilingol League area has 18 square kilometers of available pasture; livestock scale for eight years is in more than 10 million head with stability. Pollution-free and high-quality livestock products sell all over the country and Japan, the Middle East market and Hong Kong area. Xilingol horse, Wuzhu Muqin fat-tail sheep, red bull, Sunite sheep, Sunite camel, and Inner Mongolia fine wool sheep and a series of excellent breeds, are enjoying high reputation in the domestic and international market.

Xilingol Grassland is the most representative in our country bunch grass jujube rhizome grass warm grassland, and it is intact native grasslands of Eurasia Grassland in Asia east subregion. The ecological environment type in protected area is unique, with the basic characteristics of grassland communities, and can fully reflect the typical grassland characteristics of Inner Mongolia plateau ecosystem structure and ecological process. At present, the area has been found 74 seed plants of Xilingol Grassland 73 species of bryophytes, 46 species macro fungi, of which 426 species of medicinal plants, 116 kinds of excellent pasture. Wildlife reserve distribution reflects the Mongolian plateau area characteristics, mammals are antelope, Wolf, fox and so on for 33 species, 76 kinds of birds. National level of protection of wild animals such as red-crowned crane, white stork, bustard, and jade belt eagles are 5. Wild animals under state protection (category ii) like whooper swans, grasslands carved antelope and other 21 species. This area is currently China's largest grassland and meadow ecosystem types of nature reserve, where is very important in grassland biodiversity protection position and international influence.


Climate
Xilingol League area belongs to the temperate semi-arid continental climate. Most parts of annual rainfall amount is 200 to 300 mm, decline from east to west. May to August the solar radiation accounts for about 45% throughout the year, when is the longest light time, the sun radiation is strongest. Same light, heat, water, is very beneficial to animal and plant growth and development. The main climatic resources of Xilingo League, compared with the national major pastoral areas, it is average. Combined with Xilingol League flat and open terrain, better soil, various pasture types, and rich aquatic plants, all of these make the animal husbandry economy development of Xilingo League enjoy the unique superior natural conditions.


Transport
From Beijing Liuli Bridge bus stop there are direct buses to get to Xilingol League. The departure time is 7 p.m and 20:00 every evening. Price is 180 Yuan per ticket; sleeper costs 240 Yuan a people. The range of driving is about 12 hours. Tourist can also take the train from Beijing to Chifeng first, and then transfer to minibuses, drive about 10 hours, and you can see Dalinuoer lake along the way, and also enjoy the grassland scenery all the way.


Basic information
【Accommodation】 During the visit time you will find that the most beautiful and the most attractive is Mongolian traditional residence—Mogolian Yurt. Travel to Xilingol Grassland, strongly recommended accommodation is Mogolian Yurt, for renting a yurt the cost is about 150 Yuan per day.


【Travel time】

Every year in May to September, Xilingol Grassland flowers spread everywhere; there is a sea of flowers, so it is the best of time the year to travel.


【Tips】 1. It's best to wear long pants, in addition to the sun protection it can also prevent mosquito; and you had better take a pair of shoes which is suitable for off-road and climbing shoes.

2. Riding the horse need to wear trousers, don't wear red clothes, in case of horse frightened.

3. The sun block and anti-mosquito liquid medicine must be prepared.

4. If you want to pick mushrooms you better dry it; or stay one day, dried and then to take home. Otherwise wet mushrooms on a hot summer day after 10 hours will go bad. Some mushrooms in there will have a lot of bugs, it is ok, and locals say that kind of mushrooms are more delicious. If you don't know how to find mushrooms, you can consult the local people.

5. You can bring something to eat, play for relaxing on the grassland. Kites, frisbee, is better. But be careful not to leave non-biodegradable rubbish in the grasslands.

6. When driving vehicle do not roll grass, which is not allowed.