Taihu Lake is one of the five largest freshwater lakes in China and also a famous scenic spot in china known for its fascinating beauty. Tortoise Head Garden lies on a peninsula stretched on the north bank of Taihu Lake, Wuxi, Jiangsu Province, China. It gets its name because of its huge rocks projecting into the lake, appearing as if a swimming turtle tossing its head. There is a saying goes: Taihu Lake is a must see site of Wuxi tour, and Tortoise Head Garden is a must see site of Taihu Lake. This spot was built in 1916, with the continuous development, now it covers an area up to 539 hectares and opens up several popular sites. It is endowed by nature, with green hills and clear water, and becomes an ideal resort for holiday and relaxing.
Taihu Lake is the "must-see" spot in Wuxi, while this Tortoise Head Garden, is the most famous and popular sites of the Taihu Lake Scenery Spot. It has temples, bridges, pagodas and memorial archway those time-honored cultural relics, it also has picturesque natural scenery that alters with the seasons change. Tortoise Head, Guangfu Temple and Hengyun Villa, Changchun Bridge and several other places are the classic attractions in the garden. You can say this garden just changes its aspect at every turn.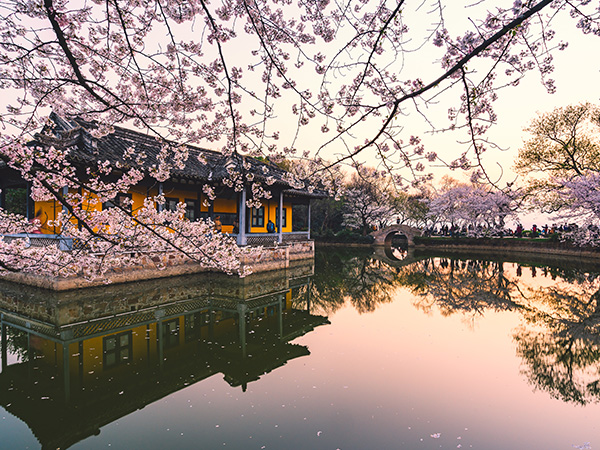 What to Do in Tortoise Head Garden
There are a lot of attractions here for you to explore one by one, such as Taihu Fairy Islands, the Chongshan Hill, Hengyun Villa, the Turtle-Head Spot, Jiangnan Orchid Garden and Sino-Japanese Friendship Oriental Cherry Plantation, etc.
【Chongshan Hill】

Chongshan Hill is like a botanical garden with ornamental plants in Taihu Lake area. You can see woods, grass, lotus pond and quiet paths with singing birds and fragrant flowers everywhere. There are different views in different seasons, featuring flowers in spring, shade in summer, color in autumn and snow view in winter.
【Greeting Sunrise at the top of the Luding Hill】

Luding Hill is the highest point of the whole scenic area, with a height of 96 meters. Standing on the top of the hill, you can overlook the fantastic scenery of Taihu Lake and the general view of Wuxi city.
【Ten-mile Fragrant Lane】

The lane is between the hill and lake with beautiful flowers and trees alongside. It is quite attractive, especially in spring.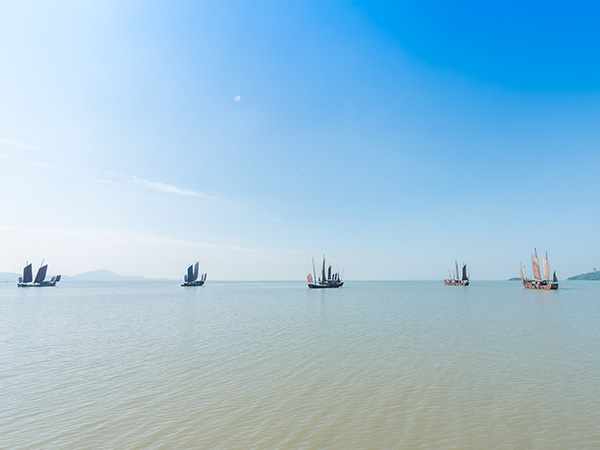 【Taihu Fairy Islands】

Taihu Fairy Islands are several islands in the Turtle Head Peninsula area, which look like a turtle floating on the surfacing of water, beautiful and charming like the "Penglai Fairy Island". There are bridges, palaces, pavilions and other classical Chinese buildings on the islands.
You may take sightseeing train in the garden, which starts from the Chongshan Hill gate and stops at the Tourist Center (Turtle Head Peninsula Arch). Along the way you can see lotus pond, Fragrant Lane, Sino-Japan Friendship Oriental Cherry Plantation, Chongshan Hill etc.. This is suitable for those who have difficulties in walking for a long time. You can also tour the Taihu Lake on the 7-mast sailboat, which is an imitation boat made according to a 100-year old ancient style fishing boat in the Taihu Lake area. Touring around the lake and enjoying the lake food, you will find an extraordinary fun of fishermen's life.
The waterfront restaurants, boat feast of lake foods, night cruise on the Taihu Lake, local specialty shops, and recreational facilities in the scenic spot meet the various needs of dining, shopping, and entertaining of visitors. The sightseeing train and seven-sail fishing boat of the ancient style will give you great enjoyment while touring the hills, water and gardens. It is definitely a site that you can miss while touring in Wuxi City.
Travel Guide
【Chinese name】: 鼋头渚


【Best time to visit】: It is suitable for visiting all year around. The best time is in March and April, when is blossoming season of cherry flowers. There are quite a few cherry trees in the garden.


【How to get there】: There are sightseeing buses in South Square of Wuxi Railway Station leaving for Tortoise Head Garden every day. Bus Route K1, passing by Li Garden(蠡园), terminates at Chongshan Gate of Tortoise Head Scenic Area. Bus Route K87, passing by Xihui Park(锡惠公园), terminates at Dushan Gate of Tortoise Head Scenic Area. You can also take a taxi to get there.