Tianjin People's Park is a small park in the centre of Tianjin City. This park is very popular on the weekend for families with small children. There are a few rides for small children there. It is a nice place for stroll.
This park covers a total area of 14.21 hectares, including 3.3 hectares of water area. There is an amusement park combined with integrated entertainment.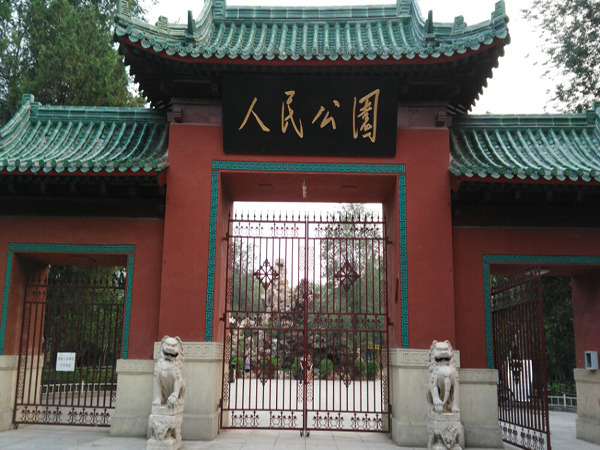 Layout of People's Park
The layout of People's Park is divided naturally into East Area, South Area, West Area, North Area and Central Area five parts by a annular river. The five parts are different in size and shape.
The north Area is a Kids Corner, like a small amusement park. It is open on weekends in warm weather, and maybe every day in the summer. There is a free giant slide.
The West Area is for water entertainment and sightseeing. Here have waterside pavilions, white stones, towers and other buildings. In recent years, a large force under the district government conducted a comprehensive transformation of this region. The lake was dredged; ancient buildings are repaired; also, here were planted a large green trees. So, rocks, water and organic fully reflects the natural taste of Chinese landscape garden.
The South Area is a small zoo. And the East Area is for cultural activities in the park area, which features pavilions and international Expos. There is also a large square which covers an area of 4,000 square meters. This area creates the conditions to carry out various cultural activities in the park.
People's Park cultural connotation of the Chinese landscape garden and modern cultural landscape closely, forming quaint compatible, suitable for young and old, static and dynamic binding, trade simultaneously, a new pattern of superior service, is set in the heart of downtown known as the "Emerald."
How to get
Just saying the name of the park should be sufficient to get you there by taxi. You can also say that it's on the intersection of Yong'an Dao and Guangdong Lu
Tianjin People's Park is a cool place to relax and enjoy the view. Most of the visitor is old man whose doing taichi, jogging, etc.. There is a big bird cage in the middle of the park where you can see various of bird, also there is a playing lot for the kids, and a big lake. There are two giant cages of birds in total (mixes of pigeons, chickens, peacocks and parakeets) in separate parts of the park, including one with a very unusual white peacock. There is no entrance fee. If you tired of travelling to the crowded places and need places to relax, then you should try this place.