Located in Haihe East Road, Hebei District, Tianjin, Haihe Cultural Square is a key project in the comprehensive renovation of resorts along the Haihe River in this city. It got this name for the adjoining Ancient Culture Street. The square is an ideal place for pleasure and rest.
The designer of this square endowed the square with a style of simplicity and solemnity by focusing on cultural traditions and folk customs of Tianjin. Meanwhile, a modern element appears in the design. You can see many modern architectures and lighting system here. Throughout the construction of the Cultural Square, the domestic high-tech lighting is underutilized. Colorful lighting design highlights the high-tech charm. The lamps of it have multiple levels from top to bottom. Ten pole lamps on the upper platform stand featured. Each of them is up to 8.6 meters high. The lower part of the lamp is a 2-meter-high base. The upper part of it has bronze poles; the pole is installed three street lights by different heights. These group fixtures are designed specifically for the Haihe River. They are usually used for the lighting of square and road. In case of large-scale activities, it can adjust the distance and lighting distance of the lamps to form a stage lighting effects.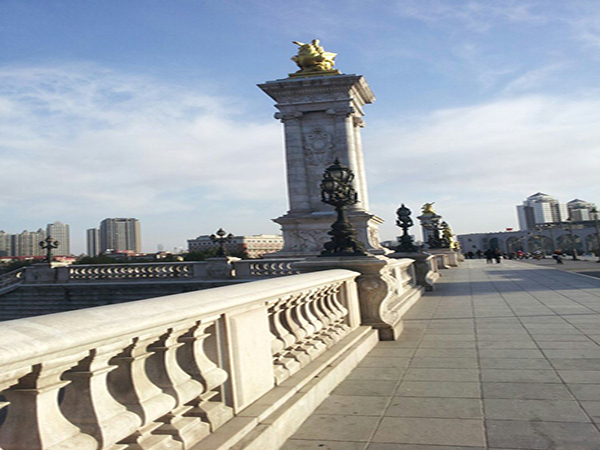 The causeway pavement, the high-tech lighting, and the wooden floor make the square a shining pearl by the bank of Haihe River. The specialty of this square is that it is near to Haihe River, which makes this square more charming and interesting. It allows visitors to do more things here, not only having a rest, eating cuisine, but appreciating the river view, seeing the boat in the rivers and so on.
One has to go here during the night to get a feel of the color and the sights. It becomes a totally different place when the lights come on. Try to stroll around and eat from small stalls, see the local fish in the river, swim or wedding couples having their photos taken with the building as backdrop. A boat ride is also available but that only covers the periphery. This area has a wonderful mix of European and American architectural buildings. The buildings are a feast for the eyes.
Overlooking the river, the cultural square is definitely worth a visit even during the winter months, as the water is frozen up and taking a pleasant stroll can really be a joyous experience.