Tangmo Ancient Village is located 26 kilometers away from Tunxi area in Huangshan downtown. It is one of the home of ancient Huizhou culture. Unlike other popularly-known villages like Hongcun and Xidi Ancient Village that are packed with tourists, Tangmo Ancient Village is a small peaceful village with an old canal in the countryside and hardly touched by mass tourism and tour bus groups. It is a perfect spot without crowds to see how old rural china was and still is.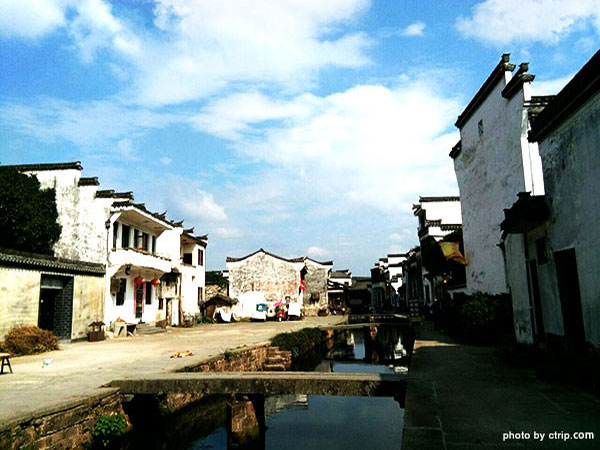 Tangmo can be called an ancient garden museum for its beautiful landscape and long history. Tangmo Village, with Shizishan Mountain as its center, is surrounded by elephant-shaped hills in the southwest and flatlands in the others. Inside are well preserved stone lanes leading to each corner of the village. The Tanggan River flows through the village. Old residential houses, picturesque water street and a few ancestral halls line on the both sides of the river. But some of the ancestral halls are destroyed during the infamous 'Cultural Revolution'. The main path with trees shading it follows a stream with stone bridges and small ponds. The Hui-style ancient buildings here are as attractive as the larger Honcun, Xidi and others villages less the herds of crowds. Over the river is Gaoyang Bridge built in the Qing Dynasty. There is a forest of gingko trees across the river, in front of which is Taizi Hall and Taizi Temple on the left. Next to Taizi Temple is Zhuangyuan Mansion (Zhuangyuan refers to Number One Scholar, the title conferred on the one who came first in the highest imperial examination. And Zhuangyuan Mansion is usually built for showing the congratulation to and in memory of the Number One Scholar), a typical Huizhou style building. Not far away from it is the former residence of Xu Cunyu, a Kuomingtang official now. Down the river on the north are a nunnery and the Memorial Hall of Xu Family and the mimic Xihu Lake is within your view. Behind the lake is Hanlin Twins Archway rare across the nations. Sheltered by ample camphor trees nearby are Bajiao Pavilion and Wusong Bridge. There is a small street with a few stores and locals go around there every day. You can buy some souvenirs in the shop.
If you have enough time, you can also visit to the Memorial Archways & Bao's Private Garden Huizhou Ancient City, Chengdu Village nearby. They are also famous historic and cultural sites.

Travel Guide
【Chinese name】: 唐模村
• Address: Tangmo Village, Qiankou Town, Huizhou District, Huangshan 245900, Anhui Province, China
• Opening hours: 7:30 am – 5:30 pm. It is recommended to spend one or two hours to wondering around the village.
【Best time to visit】: The best time to visit is in April, May, September and October, when the weather is neither too hot nor too cold. The village looks quite beautiful when rape flowers bloom in April.
【How to get to Tangmo Village】: There are direct buses from Huangshan Tourist Transport Center(Tunxi) in Huangshan downtown, but the bus schedule for reference is at 8:00am, 9:00am, 10:00am, 11:00am, 13:00pm, 14:00pm, 15:00pm and 16:00pm. You need to check the accurate schedule at the center when you arrive there. Remember to ask the driver to drop you off at the crossing of Tangmo Village.