Chengkan Village is located 31 kilometer away the north of Tunxi District (Huangshan downtown). Although it is less famous than Hongcun Village, the landscape is by no means inferior to Hongcun Village, and there is less tourists here. So if you want to visit a quieter village with less tourists, but still can admire countryside view and experience local Hui-style culture, it is recommended to visit Chengkan Village.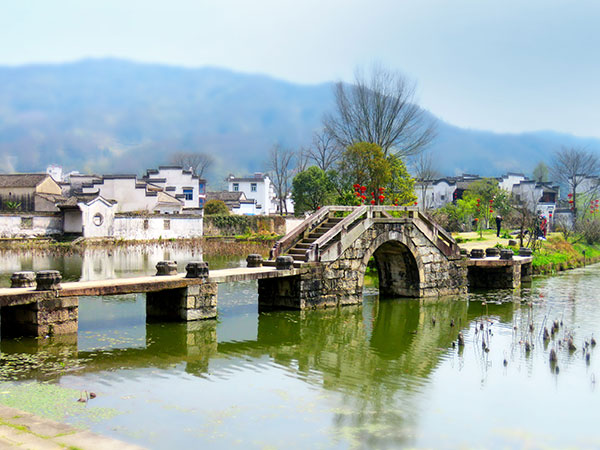 Chengkan Ancient Village is a perfect and typical combination of beautiful natural scenery and Huizhou-style culture art. It is famous for well-preserved ancient residential architecture of the Ming Dynasty (1368 A.D. – 1644 A.D.). The ancient architectures contain elegant pavilions, bridges, houses, ancestral temples, wells, etc. Moreover, there are exquisite stone carvings, wood carvings and brick carvings on each house. It is known as the museum of well-protected ancient buildings.
There are quite a few roads leading to the village, but the main entrance and ticket office is sited in the southwestern corner of the village, as well as Chengkan Bus Station. About 100 meters away from the ticket office, there is view platform where you can shoot the overall view of the village. There is a small hill in the right in front of the view platform. Yon can also take shoot the overall view of the village on the top of the hill. Every April, rape flowers bloom around the village, which make it more attractive. There is a small lake, where reflects ancient houses in white walls and grey roof. It is also a perfect shooting site, especially when the lotus flowers are blooming in summer. It is recommended to hire a tour guide at the entrance, so that you not miss the main sites and get explanation of the history of this village and Hui-style culture. Baolun Pavilion is a must see. It is located in the northeast of the village and built in Ming Dynasty. The Baolun Hall in ancestral temple is an outstanding example of the refined beauty of Chengkan's architecture. The coloured drawing on beam frame is rare folk painting treasures in the China.
Without the tourist shops and overpriced restaurants, you can truly enjoy the atmosphere of the ancient Chinese village. But unlike Hongcun which has plenty of landmark signages (incl in English), Chengkan has virtually none. So you'd better travel with a guide.

Travel Guide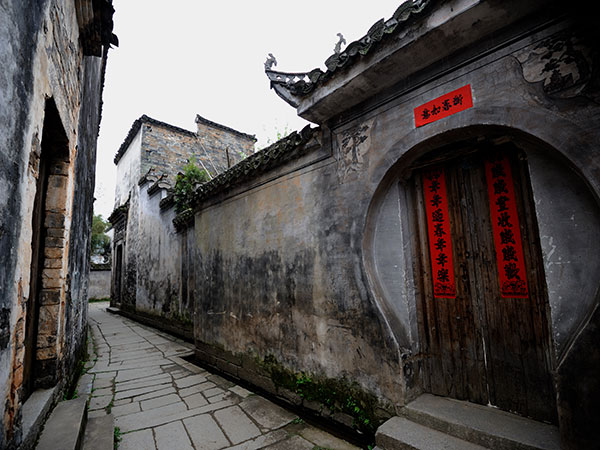 【Chinese name】: 呈坎村
【Best time to visit】: April would be the best time to visit, when the rape flowers blooms. September and October are good time to see Autumn colors as well.
【How to get to Chengkan Village in Huangshan】: If you come from Huangshan downtown (Tunxi), you may take a bus at Tunxi Bus Station to reach Chengkan directly, and you may have to check the schedule upon your arrival in the station. If you miss the bus, you can take a taxi to get there. It is about 35 kilometers from Tunxi to Chengkan. If you come form Mt.Huangshan Scenic Area(Tangkou), you can take a bus which leaves for Yi County(歙县) or Huizhou District(徽州区), and get off at a fork road that leads to Chengkan. But it is still 5 kilometers away from the fork road to the village. You may take a local motorcycle or walk to get into the village. If you do not want to go by public transport, you can also rent a car through local agent to take you there.