Shenzhen Sea World is located in Xiaomeisha Scenic Area (it has a reputation of "Oriental Hawaii") in the Golden Coastline east of Shenzhen. It has been opened since 1998. It is a family-friendly entertainment complex which has attracted millions of visitors every year and it is 28 km away from the downtown of the city. This park covers an area of 200,000 square meters (about 49 acres). It features eight aquariums and museums, two gardens and an island. The watching points here includes marine parks, Ocean Plaza, subsea tunnel, touch pool, Turtle Island, fishing ponds, lakes and other couples galleries and landscape. eight museums and two gardens includes the Polar Museum, Aquarium, Aquarium Magic tour, whale sharks Museum, Shark Museum, Seashell Museum, Science Museum, Museum of model aircraft, marine park and leisure park.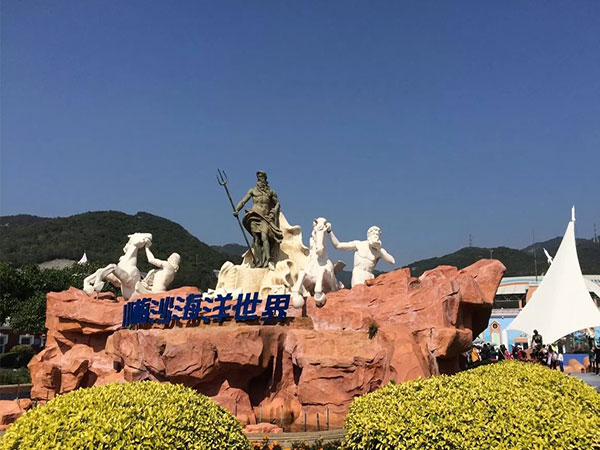 Main Attractions
【Theater performance】
This theater has nearly 3,000 seats. There are four dolphins, eight sea lions and six seals. The performance here includes aerial tricks diving performances, funny and humor diving performances, Ukraine water ballet, Ukraine water swimsuit show, seals, sea lions, dolphins shows, etc.
【Polar Animal Museum】
It is an exclusive large Polar Animal Museum in southern China. Visitors can watch the white whales, polar bears, walruses, penguins, arctic foxes, arctic wolves, seals and other rare polar animals. "Moby Dick Theater" performances are the biggest attractive point here.
【Aquarium Hall】
Aquarium includes "Shark Theater", "Submarine Theater" and "Tunnel Theater". There are more than 300 kinds of cylinders and more than 6,000 marine rare fish.
【Shark Aquarium】
There are bull sharks, ferocious lemon sharks, blacktip sharks, whitetip sharks and flexible leopard sharks, nurse sharks. There are eight kinds of and the number of more than 30 sharks here. There is breathtaking "Human Dancing with Sharks" Show in Shark Aquarium every day.
【Seashell Aquarium】
There are five exhibition halls here, showing more than 600 kinds of exotic marine shellfish, coral, fossils and precious fossilized dinosaur eggs.
Travel Guide
【Transport】 visitors can take city bus 103,103 B, 364,380,380 B, 387 to get to the SeaWorld.
【Best Travel Time in Shenzhen】The best time to visit Shenzhen is from October to December. It will be the best pleasant time in Shenzhen with cool temperature. Another time is August to September when a series of celebrations are held.