Dameisha Beach Park in Shenzhen was officially open to the public on June 18, 1999. The construction of if cost a total investment of up to 120 million yuan. It is 5A class tourist attraction in the Shenzhen, Guangdong Province. It is located in the eastern part of Shenzhen Special Economic Zone, by the beautiful scenery of Dapeng Bay. Here is surrounded by mountains in three sides. An 1800 meters long beach is between mountains and sea. It is free and open to the public. Dameisha Beach Park covers a total area of 360,000 square meter , of which a total length of beach is1.8 km, the beach covers a total area of 180,000 square meters and green area of the park is 100,000 square meters and the lake area is 80,000 square meters.
Main attractions
【Sun Plaza】Sun Plaza is located in the center of the park, with a total area of 130,000 square meters, there are three different sizes and different styles of membrane structures. And there are leisure facilities, dressing rooms, hand washing facilities for tourists here.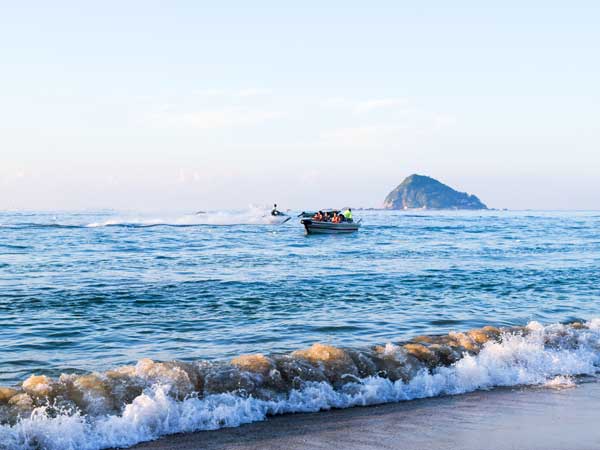 【Moon Square】
It is located in the west of the park, with a total area of 4,000 square meters. There are three membrane structures and various shops.
【Sunshine Corridor】
It has a total length of 432 meters, is one of the channel between Sun and Moon Square Plaza. There is polished stone bench in open space of corridor for tourists.
【Wish Tower】
This tower is 83.6 meters high, stands at the east side of Sun Plaza, equipped with elevators and wishes platform. The tower is made from steel. And there are a paramotor, motorboat, moonlight bar, barbecue area and other entertainment services.

Travel Tips
Dameisha Beach Park is located between Dameisha and Xiao Meisha Beach Park. It is only a half-hour drive from the city. Shenzhen Dameisha has the longest sea beach in the city. Dameisha has clear water, wide sandy beach and soft sand. The park is divided into swimming area, sports area, leisure area, entertainment area, barbecue area. There are water-skiing rope, motor boats, ATVs, water parachute, beach volleyball, beach soccer and many other recreational projects.