Shenzhen Mangrove Nature Reserve is located in the northeastern coast of Shenzhen Bay. It is belongs to a Birds Nature Reserve. It covers an area of 368 hectares. It is the only nature reserves that located in the urban area and the smallest one in China. It has been called "Mini Protected Area" by foreign environmental experts. There are 189 kinds of and the number of 100,000 migratory birds to come here to have rest or spend the winter, including white piano herons, Gulls, Xiaoqing Stilts, egrets and other kinds of birds. In addition to the mangrove plant group in the protection area, there are also 55 other species of plants. It is regarded as a green corridor in district of Shenzhen city, backed by a wide range of beautiful coastal road and fused with the coastal ecological park. It is also facing the rippling Shenzhen Bay. Here is not only a paradise for birds to habitat and a plant kingdom, but also a perfect place for people to hike to watch birds, sea view and experience the natural style. Shenzhen Mangrove Nature Reserve is gradually famous among tourists from home and abroad. Once visitors come to Shenzhen, they must go to this place to see the waterfront eco-park with meandering mangroves along the coast. And visitors can see tens of thousands of wintering waterfowl gathering here in winter, which is spectacular. Shenzhen Mangroves and Hong Kong Mai Po Nature Reserve are separated by a river. They together constitute the Shenzhen Bay wetland ecosystem and have become the most characteristic landscape of the Shenzhen-Hong Kong border.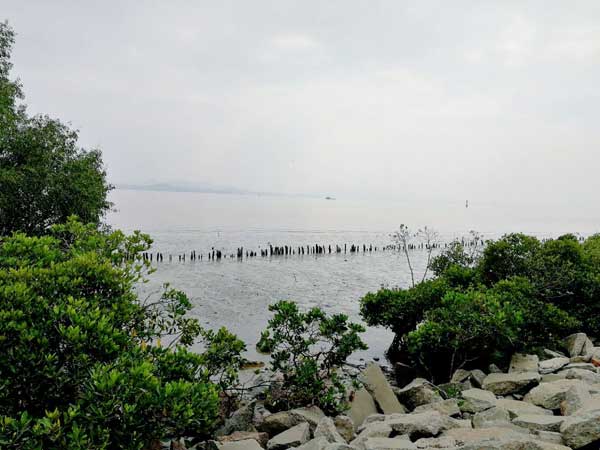 History
In 1984, Shenzhen Mangrove Nature Reserve in Futian District was officially created. The total area of it was 304 hectares at that time. There was only one road leading to the place. The local fishermen fished here in the surrounded pond and there were large tracts of natural mangrove forests, orchards and other natural forests. In 1986, President of the World Wildlife (International) Foundation, Prince Philip, specially went southwards to Shenzhen, boarded mangrove nature reserve to watch birds here and enjoyed the scenery of Shenzhen Bay wetlands. In 1989, Chairman of the Danish Wildlife Foundation, Prince Henrik of Denmark came here to watch birds here with great interest, and he even called the nature reserve as the "Green Pearl" of Shenzhen.
How to Get There
Visitors can take Bus No, 332 or 369 and get off Mangrove Station (Hongshulin Station). It might takes about 1 hour to get the destination.