Kingkey 100 (KK100) is located 5016 Shennan East Road, Luohu District,
Shenzhen in Guangdong Province. It is formerly known as the Kingkey Financial Centre. This building is 441.8 meters tall and there are a total of 100 floors. It is the tallest building in Shenzhen, the fourth tallest building in mainland of China and the eighth tallest building in the world for now (in 2013). The building was designed jointly by two internationally renowned architectural firms from the United Kingdom – TFP and ARUP. And the China Construction Fourth Engineering Bureau Co., Ltd. was responsible for the construction of it.
The steel that Kingkey 100 used to construct reaches a maximum thickness of 130 mm and the steel consumption of this building reached 60,000 tons, which is the first case in Shenzhen, even in the whole country. The cumulative length of all the welds may be circled around the equator for four circles. And the construction is in the use of C80 high strength cement, which has a higher strength and toughness. This is the first case in the country's skyscrapers. Kingkey 100 has regarded as another landmark in Shenzhen.
The 75-100 layers will be jointly created super five-star luxury hotel – the St. Regis Hotel, with the world's top hotel management company, Starwood. The hotel will also become one of the world's highest hotels. At the bottom of Building, it is an international characteristics business square, with a building area of more than 80000 square meters. The design of store here is synchronous with the international trend, reflects the modern culture and includes the world class brand shopping stores.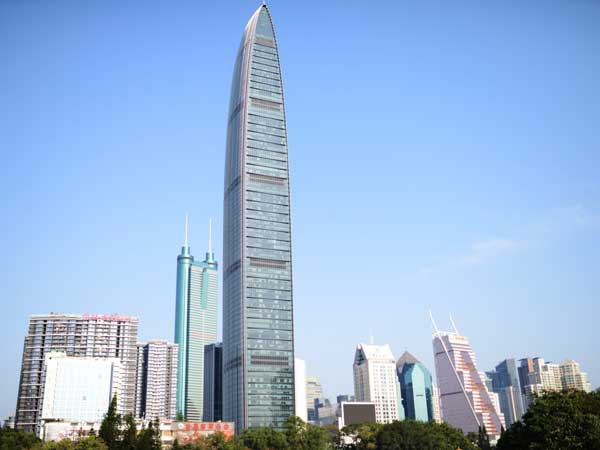 How to Get
It is next to the Metro Luobao Line and Shekou Line. Visitors can take these two Metro Lines and then get off at Grant Theatre Station (Dajuyuan Station), take a few minutes walk and you can get there. Or visitors can take Buses No. 3, 10, 12, 14, 14, 29, 101, 203, 103, 103, 104, 113, K113, 204, K204, 215, 311, 352, 353, etc to get there. It is 40-minute drive from Shenzhen Baoan International Airport.