Located in the northwest of Suzhou ancient city in Jiangsu Province, China, Shantang Street (Chinese name: 山塘街) is a famous historic and cultural street block in town. It used to be the most developed blocks of commerce and culture during the Ming and Qing dynasties of China. Now, it connects one of the busiest commercial districts called Chang Men in the east with Tiger Hill Scenic Area in the west. And the total length of it is about seven Li (about 3.5 kilometers). There is a river called Shantang River flowing beside the street. Visitors can find many stone bridges across the river, connecting the street blocks in the both sides of the river, which looks like many rainbows lying above Shantang Street. And there is boat cruise available on the river in the day and at night. It is recommended to take the cruise at night, as the residential houses look quite attractive when night falls and the lantern lights are on. You may also sit in a tea house by the river and enjoy your leisure time with a cup of tea.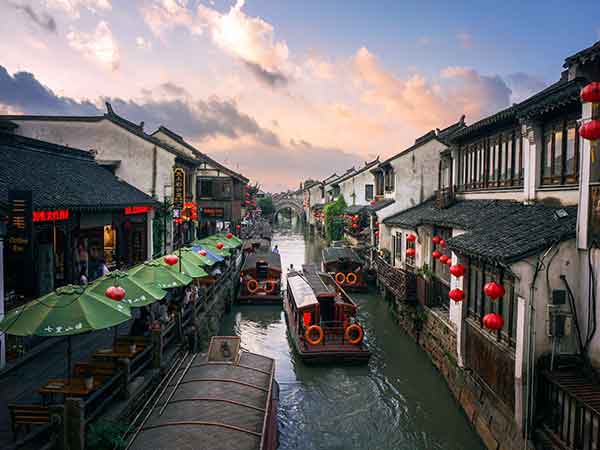 Main Attractions to See Along Shantang Street
【Shantang Old Street】Shantang Old Street, which is the essential part of Shantang Street, has a length of 360 meters. It is referred to be "Old Suzhou in miniature and a window of Wu Culture ". Two rows of ancient residential houses stand along the old street by the two sides. And the old street collects the most shops that sell all kinds of handmade crafts and as souvenirs, as well as a lot of snack stalls offering local mouth-watering food. Tea house and western-style restaurants are also available. And Yu Han House, Tonggui Bridge and Suzhou Museum of Chamber of Commerce are all sited along the street. Therefore, the old street is the busiest block.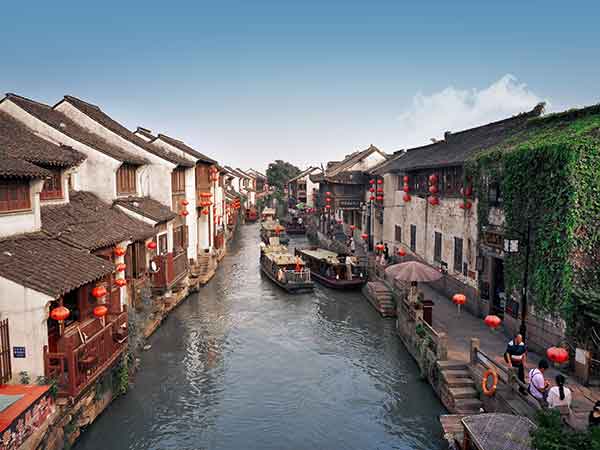 【Yu Han House】
Yu Han House used to Wu Yipeng's residential house in the Ming Dynasty. Wu Yipeng was local government official at that time. Now it is the largest and the most well-preserved ancient building complex of Ming Dynasty. It was originally built in the tenth year during the reign of Emperor Jiaqing in Ming Dynasty, The building complex brings together a variety of classic Chinese rooms, including courtyard, hall, pavilion, etc..
【Tonggui Bridge】
It is an arched stone bridge over Shantang River, also a landmark of Shantang Street. This bridge contains a auspicious meaning "leading you to the riches and honour". It is now a classical view site for oil painting or watercolor painting. You may find some people painting by or on the bridge.
【Suzhou Museum of Chamber of Commerce】
Suzhou Museum of Chamber of Commerce used to be a gathering place for out-of-town businessmen. It was a place to get help, staging, store goods temporarily and exchange commercial information. But now it is just a place for tourist to get to know about the past. The museum contains old theater stage, grand hall, living rooms, storage, courtyard, etc.
There are also some picturesque interest spots around the street, like Tiger Hill and Humble Administrator Garden. Tiger Hill is known as the "First Scenic Spot in the State of Wu" and is famous for its leaning tower (Yunyan Temple Tower) and legends. As one of top four garden in the city, Humble Administrator Garden is a definitely picturesque garden architecture in Suzhou.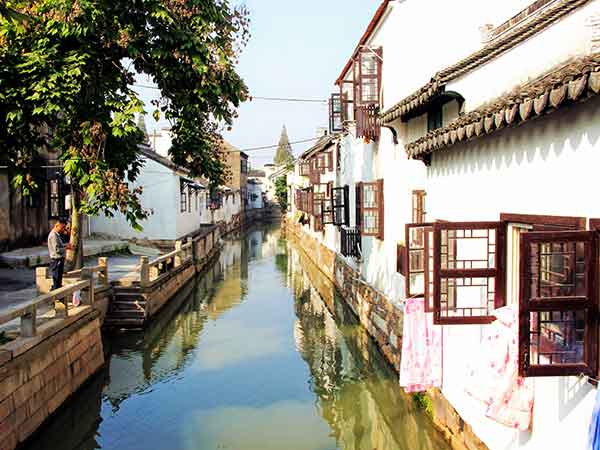 How to Get to Shantang Street in Suzhou using public transportation
You may take Subway Line 2 to Shantang Street Station(山塘街站), or take Public Bus Route 7, 34, 44, 85, 50, 64, 161, 304, 315, 317, 318, 406, 415, 522, etc. and get off at Shantang Street Station(山塘街站). Then walk to reach the street blocks. It is recommended to spend about 1 hour to tour around the street blocks.