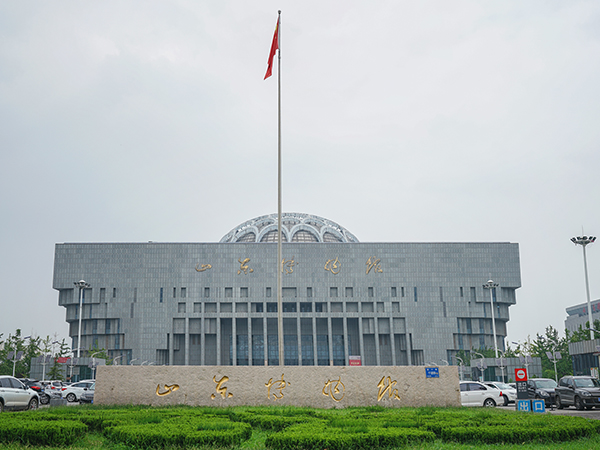 Shangdong Provincial Museum is the largest museum in the province as a highly recommended attraction by many travelers who had been there. Just located at the foothill of the Thousand-Budhha Mountain, treasures collected in Shandong Provincial Museum range from the historical ones to the natural ones about Shandong Province. Built in 1954, it is the first large-scale, provincial, integrated topographic museum in the People's Republic of China.
The museum occupies a building with 82,900 square meters of space and houses a collection of more than 210 000 historical artifacts. Highlights of the historical collection include relics from the neolithic Dawenkou and Longshan cultures, bronze artifacts from the Shang and Zhou Dynasties, stone carvings from the Han Dynasty, and paintings from the Ming and Qing Dynasties. The natural history section features fossils from Shanwang and a fossil skeleton of Shantungosaurus, animal and plant specimens, ancient fossils from the former Jinan Guangzhi Temple
It was constructed in two parts. The western part in 1942 located in the World Red Swastika Society in Shangxin Street, which used to be the seat of a religious society which combines Confucianism, Buddhism, Taoism, Islam, and Christianity. The eastern part by the British Baptist missionary J. S. Whitewright in 1904 located in Guangzhi Temple in Guangzhi Temple Street, which used to be one of the earliest museums within the boundaries of China; The former site of the eastern part was turned to the natural specimen showroom, and the western part the historical relics showroom, when Shandong Provincial Museum was founded.
This museum now has 8 exhibition pavilions, namely "Treasures of Shandong Province", "Stone Sculptures", "Warship of the Ming Dynasty", "Ancient Coins", "Art Treasures", "Fossil Collections", "Dinosaurs" and "Specimens". The exhibits include a number of exquisite Buddhist carvings, stone seals and tablets from the Han Dynasty, and agricultural objects excavated from Neolithic sites in the province; there is also a calendar dating from 134BC, which is believed to be the oldest one in China. With respect to size of collections, Shandong Provincial Museum has obtained 7th rank all over China.
Travel Guide
【Chinese name】: 山东省博物馆


【Website】: http://www.sdmuseum.com/index.html


【How to get there by bus】: To Xiajing Village (Xiajing Cun), take bus No.115, 119, K139; To Huayang Mingyuan, take bus No. 202, BRT-5, then walk eastward along the Jingshi Road for 500 meters; To Yijian Xincun, take bus No.18, 62, 63, 150, then walk northward along East Yaojia Road for 500 meters
.