Sanxingdui, the ruins of the capital of the ancient Shu, a Kingdom over 4,000 years ago, is located in Guanghan City. The site covers an area of 120,000 square meters. In 1986, a great number of relics were brought to lights, among which six pieces are evaluated as national treasures, representing the best of the art of copper in China. The discovery of Sanxingdui predates 2,000 years of Sichuan's history and proves that the upper reaches of the Yangtze and the Yellow River region are the cradle of the Chinese civilization. The Sanxindui is recognized as one of world's most important ancient remains because of its vast size, age and cultural contents.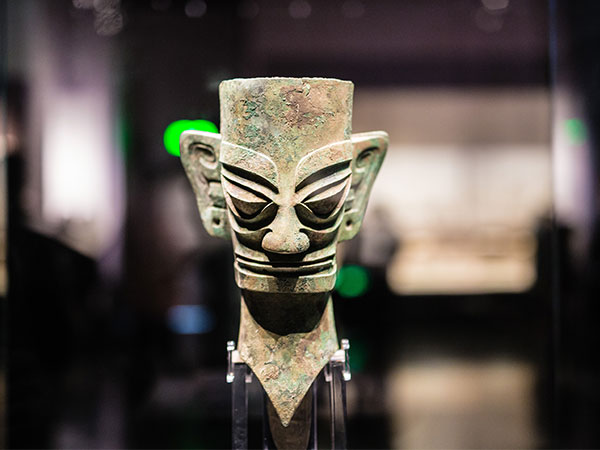 The remote area of southwest China holds its own unique mystique. Some 100 years ago, Sanxingdui ruins hadn't seemed to anyone anything more than a typical rural area, and just 20 years ago its significance was not fully known. But when a peasant hollowing out a just-dug ditch in 1929, he found some jade. He accidentally opened the door on an unknown culture between 3,000 to 5,000 years old.
The cultural relics at Sanxingdui are precious cultural heritage of mankind, which contain rich historical, cultural and scientific value, and bespeak themselves as the most attractive ones amongst the multitude of the spectacular relics in China. Amongst the hoards of prize antiquities there are a variety of unique, grotesque bronzes, such as 2.62-meter-tall standing statue, 1.38-meter-wide bronze mask, 3.95-meter-high bronze tree, all of which stand out as treasures unparalleled. In addition, the gold ware represented by the gleaming gold scepter, and jade ware such as the blades with heavy motif, turn out to be undeniable rare jewels never seen before.
Design
The museum from
interior layout
to exterior design br
eak the pattern of traditional history museum, strive to innovate in the content design and art form. On the premise of guarant
eeing the rigorous academic
, pursue knowledge, appreciation, storytelling and interest
ingness.
Among them, the pavilion body shape
is imitating combined verve of plastic arts
of the landscape, historic and cultural relics, is a combination of the original meaning and modern breath, trying to show the
Sanxingdui culture of antiquity and extensive and profound
Sanxingdui civilization.
At the same time, the outside environment
of museum is clever, equipped with magnificent antique sacrifice
stage and the large modern entertainment venues;
affiliated with the classical styles of buildings and catering entertainment facilities;
and there is lawn, lake
, rockery,
and water wheel;
There are
also children's paradise for the children to play.
Main Objects
Sanxingdui Museum is in collection of protection of cultural relics, the academic research and social education functions into an organic whole, uses the modern scientific method to implement management, collects and displays the unearthed bronze ware, jade stone, gold and pottery, bone artifacts for thousands of pieces of precious cultural relics from Sanxingdui relics site and the no. 1 and no. 2 pit in Shang dynasty sacrificial site.


What to exhibit
The first exhibition hall is more than 800 meters long; the main body content is based on "the ancient city ancient state and ancient Shu culture display", and divided into 8 display units. Here displayed the ruins of Sanxingdui and thousands of pieces of precious cultural relics such as pottery, jade, bone artifacts, gold and bronze wares unearthed from large no. 1 and no. 2 pit in Shang dynasty sacrificial excavated pit. These cultural relics are 70 years of archaeological achievements, which have influence on the world, in China's vast spectacular cultural relics, it has the most artistic value of historical scientific culture, and it is one of the most entertaining groups of cultural relics. The exhibition is in the dramatic way of stage constitutes a continuous visual scene, supplements by a large number of charts, photographs, and other exhibits, makes a bold attempt on the connotations of cultural relics, and at the same time there are cultural relic replica to stimulate excavation site. The museum use rich means to show a fantastic art palace.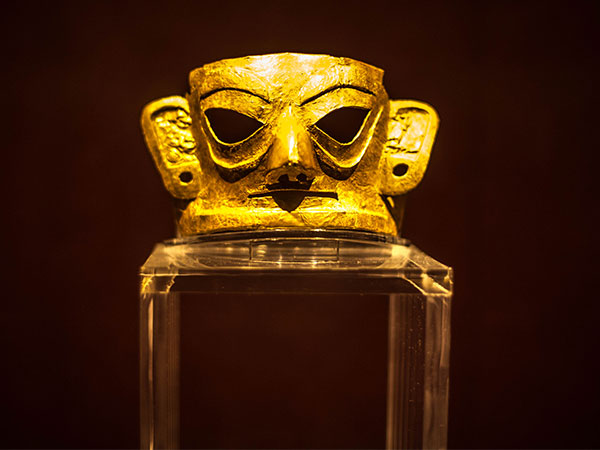 Travel Guide of Sanxingdui Museum
【Chinese Name】 三星堆博物馆
【Recommended Visiting Time】2 to 3 hours
【Best time to visit Sanxingdui Museum】 1. From Chengdu New South Gate Bus Station, there is non-stop bus to Sanxingdui, departs at 8:30, 15:00 everyday. 2. From Chengdu Zhaojue Temple to Huanghan by bus, the driving time is 40 minutes, and then in Zhaoqing road of Guanghan City taking public bus No.6 can reach Sanxingdui Museum. 3. The last bus from Guanghan to Chengdu is at 18:20, so if you want to get back to Chengdu, you have to leave from museum before 17:30.