The Longqing Gorge is locatef in westnorth of Gucheng Village, which is about 10 kilometers eastnorth of Yangqing County in Beijing. The gorge is only about 85 kilometers away from Beijing downtown. The gorge is often regarded as a microcosm of the Three Gorges along Yangtze River and is also frequently compared to craggy waterborne peaks along Li River in Guilin, South of China. In south of the gorge is the Badaling Great Wall, in the westnorth is the Songshan Forest Park, and in the west is Haituo Mountain.
The whole gorge has a length of about 7 kilometers. It contains clear water and green mountains in spring and summer time, and it is a good place to be away for the summer holidays or away from bustling city life. In winter, this is a world of ice and snow. You can do skiing around. And the Ice and Snow Festival in winter in the gorge area is quite attractive.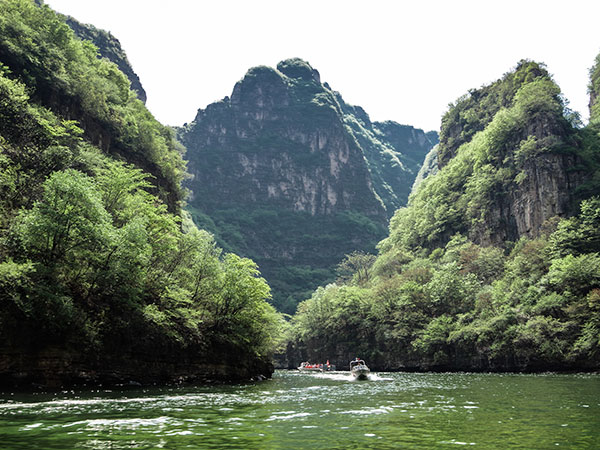 Cruise Trip
There is a reservoir in scenic spot which was founded in 1973. The construction of it took eight years. The reservoir covers an area of 119 square kilometers and can store 8.5 million cubic meters of water. The reservoir not only provides the irrigation water for the surrounding areas, but also makes the scenic spot more beautiful.

Main Attractions to See in Longqing Gorge
【Ice Lanterns】
The weather is quite cold in winter and ice period is longer than other places near Beijing. Taking advantage of the unique natural conditions, Ice Lanterns Festival has been held since 1987 to attract more tourists. And now watching ice art lanterns has become the tradition of winter tourism in Longqing Gorge. The ice lanterns exhibition area is sited below the reservoir and between two mountains. Huge chunks of ice formed natural water seeping from two mountains become the best natural background of the lanterns exhibition.
You may enjoy seeing spectacular and beautiful designed and sculptured by experienced ice lantern design talents. Ice lanterns look extremely beautiful, especially at night when all the decorated colorful lights are on. Every ice lanterns festival has different theme, which is interesting.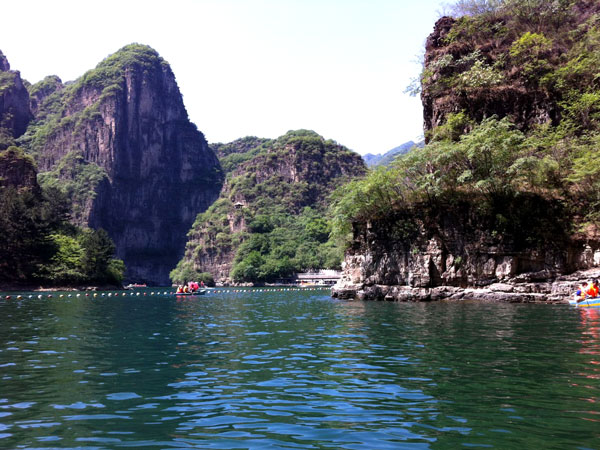 Ice Lanterns
【Shenxian (immortal) Temple】
It is sited on the halfway up highest peak in Longqing Gorge area. And on the top of peak is Taoist Jade Emperor Temple, which can also be reached by cable car. Both of the temples are originally built in Ming Dynasty. There are is 300-hundred-year-old pine tree in front of the Shenxian (immortal) Temple
【Baihua Cave】
Baihua Cave is 320 meters long and contains an exhibition area of 3000 square meters. Here exhibits more than one thousand of artificial flowers and plants, as well as many animals. It is divided into different themed areas. You can take cable way to reach from Baihua Cave to reach directly Shenxian (immortal) Temple.

Entertainment Activities to Do in Longqing Gorge
There are quite a few exciting entertainment projects for tourists to have fun in Longqing Gorge, including taking a cruise to see the view around the reservoir, taking flying rope, doing bungee jumping, etc.. The projects need the courage to meet the challenge.
【Taking a Cruise】
Taking a cruise would be an easy and relaxing way to enjoy the beautiful scenery around the gorge. You will see ruins of Jingang Temple, Jiangjun Cliff (The General Cliff), Cockscomb Islet,
【Taking Flying Rope】
Taking Flying Rope is a kind way to cross mountains, mountain streams or rivers by pulley and slide in mountaineering expeditions. The project is built between two cliffs in Longqing Gorge. It is 200 meters long. The main equipments were all imported, safe and reliable. You would have a feel of flying in the sky when you take it.





Bungee Jumping
【Bungee Jumping】
Bungee Jumping is another challenging sports. The platform for Bungee Jumping is built on a cliff near Jingang Temple, with a height of 48 meters. It is are highly secure. Why not take a challenge?
There are also other exciting projects available, such as rock climbing, slide, ice climbing, skydiving, etc. If you are an extreme sports enthusiast, you must love this place.

Best Time to Visit
September & October and mid-January to late February are the best time period to visit the gorge area. In September and October, the weather is fine and cool, with less rain, and the gorge dressed with yellow and read leaves looks beautiful. From mid-January to late February is the winter time in this place, and Ice And Snow Festival held in Longqing Goarge during this time is quite famous. You must come and have a look.



How to get to The Longqing Gorge in Beijing
Tourists can take Bur Route No.919 at Deshengmen Bus Station to reach Yanqing County area first, then transfer to Bus Route no.875 to get to Longqing Gorge. Or you can take inter-city train line S2 at Beijing North Railway Station to arrive at Yanqing South Railway Station first, then transfer to Bus Route 875 to reach Longqing Gorge. Or you can rent a car through a travel agent to take you from Beijing downtown to get to the gorge area. The last bus from Longqing Gorge should be around 5 to 6 pm. It is recommended to spend one day tour to visit the gorge from Beijing.