What you could not miss in
Chengdu is the world famous
Chengdu Research Base of Giant Panda Breeding
which is located about 25km out of Chengdu City. This huge institution replicates the natural habitat of the giant panda and is dedicated to preserving and increasing their population so they will not become extinct. You are able to get real close-up to some pandas and photograph them as well as the so-called lesser red pandas which really look and act like raccoons. One of the biggest attractions is the panda breeding center where you can watch the baby pandas through glass in their playpens. You are not allowed to photograph the baby pandas, as the flash can hurt their eyes. Another highlight is the video you watch about the reserve and panda reproduction and learn how a panda gives birth to a baby cub. The baby just slides out and at the first time mothers don't know what it is, so it is common for them to accidentally kill the baby as they swat it around if the researchers can not help out in time. In all, it is nice to see all in the panda breeding center. It's best to visit the base in the mornings as early as possible. You'll see most action from the pandas between 8am and 11am – after that they're likely to be sleeping. And, while you might not want to plan your whole trip around it, if you visit the base in September or October you'll be able to see newborn pandas in the nursery.
Optional Activities in Chengdu Panda Base:
Top China Travel is glad to introducing some joyful optional activities in Chengdu Panda Base:

► Taking photos with small pandas (one-year-old)

► Playing with panda (5 min)

►
Panda Base volunteer day tour


History
In 1997,Chengdu Research Base of Giant Panda Breeding established the first opening laboratory in the study of Chinese endemic endangered animals under the subsidization of state planning commission, planning commission of Chengdu, and C
hengdu panda breeding research foundation for more than 15 million. According to the international first-class scenic spot construction and reception standard, the base in recent years used limited resources to increase tourism environment and infrastructure investment. In 2006 by the national tourism administration it was formally awarded "national AAAA level scenic spots". As the national, provincial municipal window, the base has received dozens of world leaders and guests since it established.
Geography Environment
Chengdu Research Base is located in the northern suburb of Chengdu Futou hill, more than 10 kilometers away from downtown, the transportation is convenient, and it has a unique geographical advantage of the development of the giant panda characteristic tourism. Since its establishment, fully simulate the natural ecological environment of the wild giant pandas gardening technique, it built pool, stream, lake ornamental plants such as forest, lawn and planting bamboo forest, etc., the natural mountain scenery and beautiful artificial landscape skillfully combined, make the environment more close to nature and create a good environment for animal survival.
Our team visited Chengdu Research Base of Giant Panda Breeding in 2013
What to see
1. The base is planting bamboo like bambusa multiplex and so on. Through years of cultivation, in the garden there was formed the bamboo forest path of giant panda special tourism scenic natural environment tour. At the same time, there is rich vegetation, and various kinds of cherry blossoms and other plants with ornamental value.
2. In the base there is raising the panda, white swans, peacocks and other rare and endangered wild animals and wild birds, butterflies, and hundreds of species of insects, which attracted many visitors from home and abroad.
3. Tourists can have close contact with the giant panda is one of the largest tourist base feature and highlight. In the bionic fields, visitors can have a closer look of living state of different ages giant pandas, can see the pictures of pandas lie or sit, or drink or eat, or play; In giant panda room, visitors can appreciate vivid scene that panda mother feeding its baby with the zero distance. Chengdu Research Base of Giant Panda Breeding has been hailed as a national treasure "The Top Tourist Destination for Intimate Contact of Chinese National Treasures for Chinese and Foreign Tourists ".

Shop and Restaurants in Chengdu Research Base of Giant Panda Breeding
"The Home of
Panda" gift shop

The Home of Panda is at the right of the entrance. The Home of Panda outer wall adopts brown wooden materials for decoration, its style is in harmonious collocation with the base landscape, and fully highlight the ecological characteristics of the base; the layout is reasonable, container, commodity is neat and tidy. And the salers are enthusiastic and polite to provide bilateral language service in both English and Chinese, which has brought great convenience for the domestic and foreign tourists shopping.
Tourists Shopping
Service
Center

Tourists Shopping Service Center is located in the left of tourist service center which is an open type shopping site. Its size is appropriate, it is functional, the wooden shelves are compactly and reasonably put, and there are Chinese traditional characteristics souvenirs.
The Panda Bookstore

The Panda Bookstore is located near the Panda Charm Theater. The bookstore is small and exquisite and it is close compactly with Panda Charm Theater. And the wooden building is harmonious and compatible with the base that shows the style of primitive simplicity ecology.
Panda Restaurant Chengdu Research Base of Giant Panda Breeding possesses Chinese restaurant, leisure outdoor cafe, canteen, etc. Chinese restaurant can accommodate 200 people dining at the same time, the chef has its unique cooking techniques and the cuisine is mainly traditional Sichuan cuisine, with various travel packages, conference banquet dinner and various grades of dining banquet. And the outdoor cafe can receive 100 people drink tea leisurely at the same time.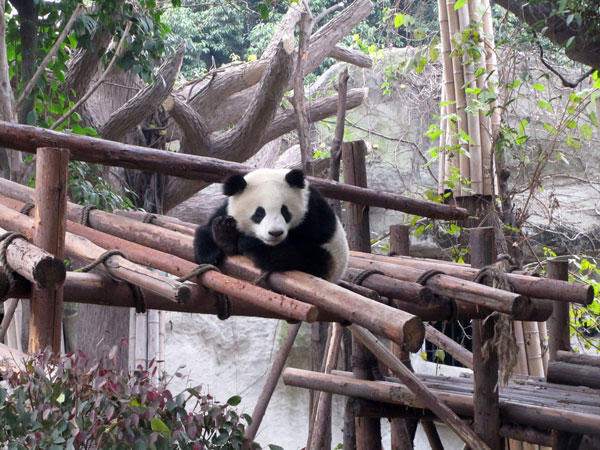 How to Get to Chengdu Research Base of Giant Panda Breeding
1. Self-driving: Chengdu Research Base of Giant Panda Breeding is located in the northern of Chengdu city, 10 km away from downtown. There is a broad Panda Avenue connected to the downtown.

2. Pubic Bus: taking bus No.1, 49, 53, 63, 64, 69, 71, and 83 to Qinglongchang Bus Center Stop and then transfer to bus No.198 or 87 to Chengdu Research Base of Giant Panda Breeding.

3. Taxi: taking taxi from downtown to Chengdu Research Base of Giant Panda Breeding might costs 30 RMB.

4. Subway: taking subway line No/3 to Panda Avenue Station.