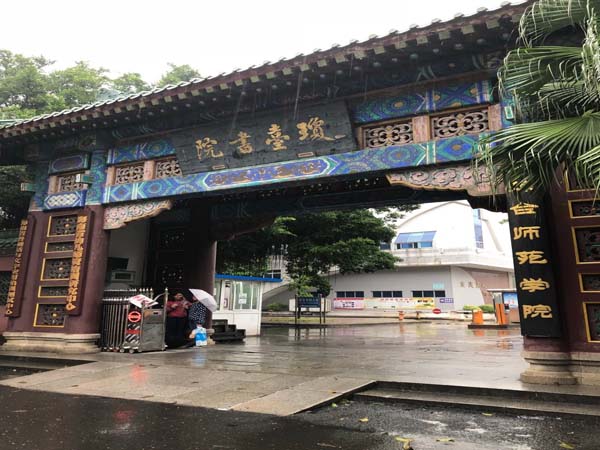 Located on Wenzhuang Road in Qiongshan City, the Qiongtai Academy was established in commemoration of Qiu Jin, who was believed to be the most brilliant scholar in Hainan and a renowned academic in Ming Dynasty ((1368-1644)). Construction began in 1705 in the 40th year of the reign of Kangxi in Qing Dynasty. The academy was named Qiongtai because Qiu Jun was called 'Mr. Qiongtai' at that time. At one time, the academy was the supreme institution of Qiongshan. Now, well-preserved academy is the site of the Qiongshan Teachers' Training School.
The 'Kuixing Lou Building' is the main builingd inside the Academy. It is a two-storey building made of brick and wood and is rich in traditional ethnic characteristics. The lavishly inscribed pillars inside the academy, together with its green surroundings, transform the area a peaceful and secluded spot. The academy became celebrated after a well-known Cantonese and Qiong drama was written based on events there.
The events behind the famous story Search the Academy occurred here. Sometime during the Qing Dynasty (1644-1911), a student of the academy fell in love with a maid of local governor. At that time, young people did not have the right to choose their husband or wife. So the governor was very angry after he found out about the relationship. The maid escaped before she was being punished and ran into the academy for help. The governor wanted to search the academy, but the schoolmaster Xie Bao deni ed his request and sent the maid out of the city during the night. Finally, the maid and the student married. They lived happily together, and later the student succeeded in the imperial examinations.
Travel Guide
【Chinese name】:琼台书院


【Opening hours】: 8:00am – 5:30pm. It is recommended to spend about 1 hour in visiting.


【How to get to Qiongtai Academy in Haikou】: You may take Bus Route 1, 4, 42, 49 to Teachers Training College Station(琼台师范站).