Ancient Dragon Kiln is a special kind of kiln that is shaped as a Chinese dragon, using firewood and pine branches as fuel. Such kiln was made of soil and ceramic bricks, with a total length of up to 30-70 meters and a height of 1.6-2 meters. It was built in the shape of trunk-arched tunnel that can be divided into three parts – head, main body and bottom.
The history of Yixing Qianshu Ancient Dragon Kiln can be dated back to Ming Dynasty (A.D.1368-1644), with a history of more than 1000 years. The kiln is sited in a normal village in Yixing. Ordinary villagers are just nearby. The dragon kiln was built on natural slopes, with an inclination of about 30 degree. Seen from afar, it looks like a huge dragon winding on slope. Its principle is to let the fire burn and heat naturally from bottom to the top, very energy efficient.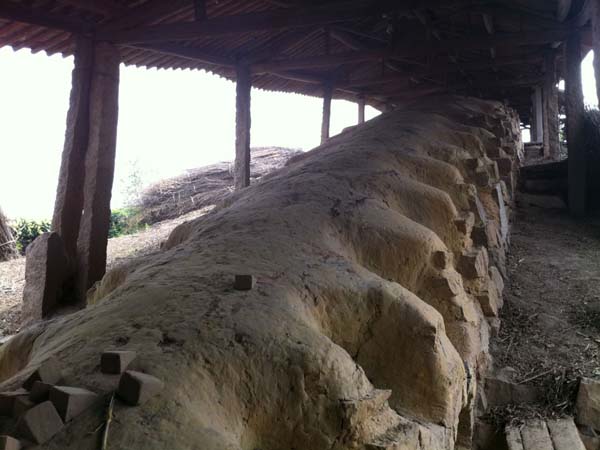 The products made in Qianshu Ancient Dragon Kiln now are mainly ceramic cans, urns, pots, basins, glazed vessels, and some other crude pottery used as daily necessities in normal life, as well as Yixing sand-fired pots. Yixing sand-fired teapots, with its unique texture of clay, modeling and ancient natural beauty, are famous at home and abroad. Qianshu Ancient Dragon Kiln has the longest history of making sand-fired pot. If you are fan of tea, having a Yixing sand-fired teapot would be the most exciting thing.
This kind of kiln has been put into use since the Warring States period, but there are only three of them left – Qianshu Ancient Dragon Kiln in Yixing, Taoke Ancient Dragon Kiln in Putian, Fujian and Nanfeng Ancient Kiln in Foshan, Guangzhou. They still works so far.
Travel Guide
【Chinese name】: 宜兴前墅龙窑
【How to get there】: It is about 70 kilometers away from Wuxi. It is recommended to rent a car to get there. It takes about 1 hour and 30 minutes by car.