We know there is a birds heaven in Qinhuangdao–BeiDaiHe Scenic Resort. And is there a place call Nandaihe. It is connected to Beidaihe by a bridge over a river. Nandaihe Scenic Resort is the newly developed tourist and recuperation resort under Funing County of Qinhuangdao City, Hebei Province.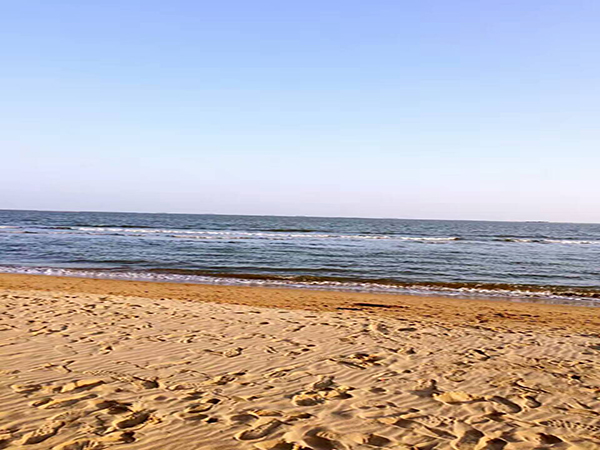 With the grand sea, beautiful beach, soft sunshine and greenery — Nandaihe is an ideal venue for taking a dip in the sea and sunbathing. The seawater is, therefore, very clean. It is said that rolling around on the beach after a bath in the sea can help dispense of fatigue. The region is also honored as "the First Bathing Venue under the Heaven". The coast line of Nandaihe extends up to 17.5 km, with its sandy beaches covering a width of 100 to 250 meters. The sands here are broad and soft, taking on a golden hue, that how it got its name: Golden Sands.
Nandaihe is characteristic of a marine climate, which means it is neither too wet nor dry. Although all four seasons are very distinct, the winter days are never severely cold nor the summer days intensely hot. The average temperatures throughout the year remain at around 10℃, with the highest reaching 35℃ in the summer for no more than a week. Average temperatures in July and August, which are known as the warmest months of the country, are fixed at around 23℃. While midsummer in most places in China is extremely hot, Nandaihe, however, is an exception: With its gentle-blowing breezes, its climate is very beneficial to human health.
What to see in Nandaihe Scenic Area
【Nandaihe Amusement Center】 Nandaihe Amusement Center is located in the Provincial Nature Park in Nandaihe Scenic Area, with an area of 5.5 square kilometers. This center greatly features with broad beach, fresh air, clear water, and thick woods, all this return-to-nature environment and abundant natural resources. Various amusements add to the fun, including sand beach, luxurious yacht, cable railway, children's playground, sea-viewing corridor, woods train, bird show, car race, etc. There are four sliding very famous in Nandaihe, which are sand sliding, glass sliding, pulling-boat and high mountain ropeway.
【China Lotus Park】
China Lotus Park includes four scenic sights, they are squar of enjoying lotus, lake of one thousand pieces of lotus, one hundred of walks to lotus and island on the center of lake.
【Xianluo Isle】
Xianluo Isle is a small isle in Nandaihe Scenic Resort with an area of 10,000 square meters. Afternoons are perfect for swimming in the sea and sunbathing. In the evenings, one can lie on the warm beach to absorb the tranquility around them.
Travel Guide
【Chinese name】: 南戴河
【How to get there】: Nandaihe is only 15 km away from Beidaihe Railway Station, 30 km away from Qinhuangdao Port and the Qinhuangdao Railway Station. You can take a taxi to get there. It will not charge a lot.
【Best time to travel】: The best time to visit Nandaihe is between June and October.