Highlights of Confucian Temple Tour
• A grand complex of monuments and buildings in the hometown of the great philosopher and educator – Confucius.
• The largest Confucian temple buildings in China, with historic sites and ancient sacrificial culture
• Many calligraphy plaques, inscriptions and carved stone by imperial emperors of previous dynasties
• Grand Confucius memorial ceremony in fall every year is worth a visit to get to know more about Confucius culture
Confucian Temple, as one of the Qufu highlights, is a must-see attraction when you plan Shandong tour. Confucian Temple is located in the center of Qufu City, Shandong Province, China. In order to commemorate the great philosopher Confucius, this temple was originally built as early as in 478BC, one year after Confucius death.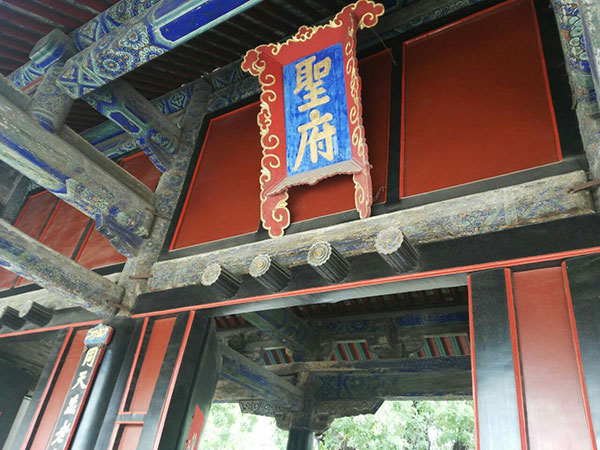 In the year after Confuciu death (478 B.C.), King Lu had the sage residence turned into the Confucius Temple (kong miao). Since then, it has undergone renovation and expansion, the emperors of successive dynasties all competing in their veneration of the great sage. It was not until during the reign of Emperor Yongzheng that the temple took on its current look, containing over 460 halls, altars, towers and pavilions, 54 archways and 13 steles bearing calligraphy by various emperors. Apart from the royal steles, the temple also boasts a variety of others, especially those made in the Han Dynasty.
The temple was built according to the specification for imperial palaces; it is one of the three greatest ancient building complexes in the country and holds an important position even in the world. The other two are Forbidden City in Beijing and Imperial Summer Resort in Chengde. It is also one of four largest Confucian Temple complexes in China, together with other three respectively in Nanjing, Beijing and Jilin.
The temple covers an area of 50 acres. Inside of this complex, there are 9 yards, each among which has its own characters. The temple has an outer wall, with four corner towers, which shelters ancient pines. The main buildings along the middle route are Kuiwen Pavilion, Thirteen Stele Pavilion, Xingtan Pavilion, Dacheng Hall, Hall of Confucius' Wife and Shengji Hall. Among them the Dacheng Palace and the Kuiwen Cabinet are its main buildings.
In Confucius temple, there is one large statue of Confucius, 13 stele pavilions, 53 huge steles and 120 "Shengjitu", on which records Confucius' life experience, and many other historic and cultural items related to Confucius and Confucius culture. There are over 2,100 steles including 800-plus steles displayed outside and 1,200 existing ones, forming a Forest of Steles. The walled temple, with towers at its corners, is composed of many buildings with carved beams and painted eaves, extending for more than one kilometer from south to north. Inside the wall, ancient cypresses and pines provide the buildings with shade. The temple houses more than two thousand stone tablets with inscriptions in various styles of calligraphy. The Great Accomplishment Hall, the major structure of the temple, is 33 meters tall. It is roofed with yellow glazed tiles and has octagonal eaves. The front 10 stone columns are carved with dragons. In addition to a statue of Confucius, the hall also houses stone inscription of the Ming Dynasty, which tells the life story of Confucius in 120 pictures, as well as a great deal of stone tablets.
Approximately halfway along the north-south axis stands the Great Pavilion of the Constellation of Scholars, a triple-roofed Jin Dynasty (265-420 AD) wooden structure designed for ceremonies. Further north we meet Dacheng Gate. Dacheng Palace is the main body of Confucius temple and is where libations and sacrifices are offered to Confucius. There are 10 poles made of marble in its front porch. Each pole has two carved flying dragons playing a big pearl. In the front of this Palace, there is a pavilion, named "Xing Chan", where Confucius used to teach in his old days. The structure of Kuiwen Cabinet is 3-layer timberwork, which is rare in our county.
To the right of Dacheng Gate is a juniper, allegedly planted by Confucius. A little farther away is the small Xintan Pavilion commemorating the place where Confucius is said to have taught under the shade of an apricot tree. At the upper northern end of the temple is Shengjidian, a memorial hall containing a series of stones engraved with scenes from the life of Confucius and tales about him.

About Confucian
Confucius (September 28, 551 – 479 BC) was a Chinese teacher, editor, politician, and philosopher of the Spring and Autumn period in ancient Chinese history. Confucius' family and personal name respectively was Kong Qiu (孔丘in Chinese). His courtesy name was Zhongni (仲尼 in Chinese). In Chinese, he is most often known as Kongzi or Kong Fuzi.
The philosophy of Confucius emphasized personal and governmental morality, correctness of social relationships, justice and sincerity. His followers competed successfully with many other schools during the Hundred Schools of Thought era only to be suppressed in favor of the Legalists during the Qin Dynasty. Following the victory of Han over Chu after the collapse of Qin, Confucius's thoughts received official sanction and were further developed into a system known as Confucianism. Confucius's principles had a basis in common Chinese tradition and belief. He took strong family loyalty, respect of husbands by their wives of and elders by their children, and ancestor worship as priority. He also suggested family as a basis for ideal government. He took the well-known principle "Do not do to others what you do not want done to yourself" as the Golden Rule of people's behaviors.
Travel Guide
【Chinese name】: 孔庙
【Best time to visit】: It is suitable for visiting all year around. The best time is in autumn, September and October.
【How to get there】: You may take Bus Route 2, 5, 6, 7, 8, 9, 10 to Qufu Old Bus Station (曲阜老汽车站), then walk northwards along Shendao Road for about 3 minutes and you will reach there. Or you may take Bus Route K01 to Nanmen Station(南门站).