Nagqu Firigid Grassland is in Nagqu county, the county is located in east longitude 91 ° 12 '- 93 ° 02', north latitude 30 ° 31 '- 31 ° 55', it is located between Tangula mountain and Nyaingentanglha Range. In South, bordering Damxung County connected with Nierong and Amdo County in its north, east with Jiali County, and west with adjacent Baingoin County. All these places are 4450 meters above sea level. The maximum distance of 233 km is from east to west, and maximun distance of 185 km from north to south, with a total area of 1.6 square kilometers.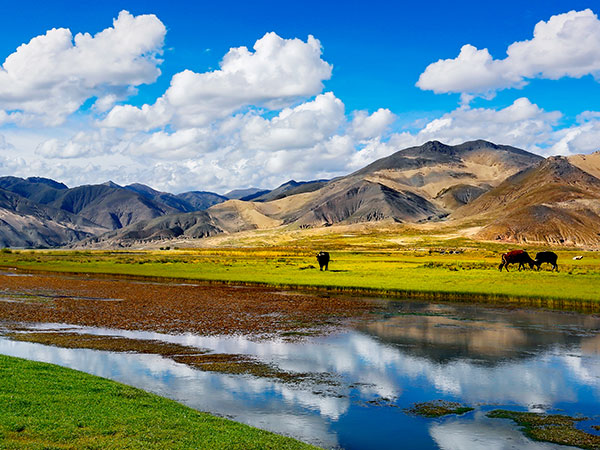 Climate
Nagqu
County
belongs to subfrigid zone plateau semi-arid monsoon climate, characterized by low temperature, thin air, dry and clean air, strong solar radiation, and large temperature difference. Annual average temperature is minus 1.5 ℃, the temperature difference of a day on average 16.1 ° C. January average temperature is 13.2 ℃, the annual extreme minimum temperature of 41.2 ℃;In July average temperature 9.0 ℃, the highest temperature of a year is 23.60 ℃; the last days of 164.5 days are above 0 ° C, annual sunshine hours are 2846.9 hours. From middle of October to the following year of mid-may there is stable snow cover and soil freezing period, the annual average frost days last for 103 days. From July to September are plateau vegetation growth period.
Geography




Nagqu means Black River in Tibetan; the whole region is in the Tangula Mountain, Nyaingentanglha Range and Transhimalaya. The total areas are more than 40 square kilometers of land where is the land people often called Qiangtang. The terrain represents the west high and low in tilt, and the east is low in the flat, with an average elevation of over 4500 meters. Midwest is vast flat terrain, with hilly basin, lakes, and rivers, scatter vertical and horizontal. The east belongs to river valley, where is the only crop production areas in northern Tibet, and there are a small amount of forest resources and shrub grassland, its elevation between 3500-4500 meters, the climate is better than the Midwest.
Information
Nagqu area is located in Nagqu town, is one of the tourist area of Tibet opening to the outside world, every August(it is June in Tibetan calendar) is the prime time of North Tibet
and at that time the horse racing festival is held in the northern Tibet grassland. At that time, the nomads, the tourists, in different places gather around here. Tourists can appreciate the natural scenery of the northern Tibet grassland, festive mood and ethnic customs, and also visited northern famous Xiaodeng monastery of North Tibet. In Nagqu area, the vast Qiangtang grassland, and the mysterious northern no-man's-land will leave deep impression to the tourists, especially the endless void, wild yak, Tibetan antelope, wild ass, such many national level protective animals, which add more attractive feelings to this miraculous land.


Nourished by Black River, Nagqu Grassland is a paradise for the wild animals and plants. Yaks and sheep can be seen everywhere on the vast grassland. The grass growing on the grassland is a kind of short grass that has the highest content of protein among all grasses. Nomad camps can be seen everywhere on the grassland. Besides the traditional yak camps, there are nylon camps of different shapes and sizes striped with different colors such as red, blue, yellow, green and white. On the top of many camps, multi-colored flags are waving to and fro in the breeze.


Accommodation
You can return to Nagqu for accommodation but also you can stay in the nomadic tent for accommodation.
Cold here at night, so you need to bring enough warm clothes.

Transport
During the Nagqu Horse Racing Festival, there are midibus to Nagqu County, the fare is 2 Yuan. And there are buses from surrounding six counties to Nagqu town.