Lushan Mountain is located in the northern part of Jiangxi province in southeastern China, and is one of the most well known mountains in China. The oval-shaped mountains are about 25 km long and 10 km wide, and near to Nanchang City toward the south.
Overlooked southward on top of the mountains, the Poyang Lake looks like a silver mirror. In the north, the Yangtze River is like a jade ribbon flying to the east. These well-liked mountains are renowned for its grandeur, elegance as well as perilous nature.
In 1996, Lushan Mountain was included in the UNESCO world heritage list, gave the following remarks; "With its peculiar style in historic remains, which is melted with remarkable natural beauty, Mt Lushan has formed a highly- aesthetically-valued cultural view closely relevant to the sprit of the Chinese people and their cultural life". Owing to its congenial climate, it is also a popular summer resort in China now.
Things to Do and See
The mountain is a famous scenic zone enjoying more than 1,500 villas in various styles and about 80 tourist attractions. It is really an ideal summer resort and place for patients to recuperate. It features in magnificent peaks, beautiful waterfalls, historical sites, and also charming sea of clouds, not to mention a mild and comfortable climate.
It has a dangerous outside with a variety of landforms: rivers, lakes, and hillsides, mountain peaks, however, it has an elegant inside. Dahanyang Peak, the highest peak of this mountain, is 1474 meters high. More than 171 peaks had been named in ancient time, along with 16 stone caves, 20 valleys, 22 strange stones as well as 26 ridges. Streams and waters grow into branches in rives valleys and form a lot of torrents, 14 ponds, 18 mountain streams as well as 22 waterfalls. All these fantastic landscapes in Lushan Mountain have significant science and tourism value.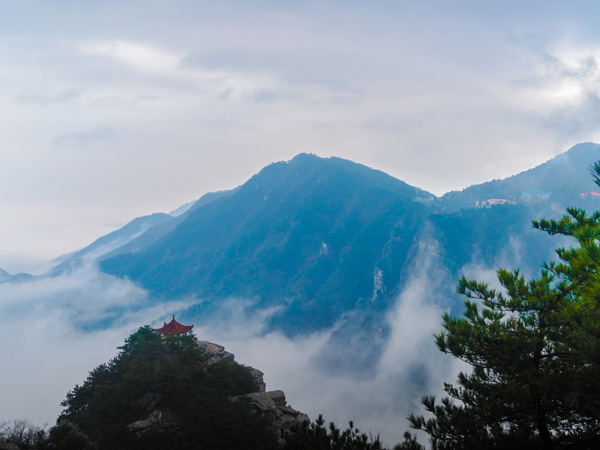 Also, this mountain is abundant in biological resources. The forest coverage has reached 76.6%. It owns more than 3000 kinds of senior plants, about 2000 kinds of insects, over 170 kinds of birds as well as 37 kinds of beasts.
In addition, it is one of the spiritual centers of Chinese civilization. Buddhist temples, Taoist temples, together with landmarks of Confucianism, where the most eminent masters taught, blend well into strikingly gorgeous sceneries which have inspired endless artists to develop the aesthetic approach of nature found in Chinese culture.
Main attractions here includes the Peach Blossom Garden, Guanyin Bridge, Bamboo Temple, Botanical Gardens, Lushan Hot Springs, Luling Lake, Three Tiled Springs, White Deer Cavern Academy, Five Old Man Peaks, Meilu Outhouse, Immortal Caverns, etc.. And the distance between each other is quite long, so you need to take shuttle bus instead of walking. There are two Shuttle bus route inside Lushan Scenic Area: The East Line with 13 stops and Western Line with 8 stops. They runs separately. If you want to transfer from the East Line to Western Line, you may make transfer at Conference Center Stop(会议中心). And you should watch out the time of last bus.
【Three Tiled Springs】 (三叠泉)
Lushan Waterfall – Three Tiled Springs is known as the first landscape in the world Lushan. Local also has said "less than Sandiequan, not Lushan off". The drop of the waterfall is about 155 meters high. In May and June is the best time to see Three Tiled Springs, with the large amount of water. If you come in there, it may not look so spectacular. To be noted that the shuttle bus will take you to the first layer tile of it. Then you need to hike down for about 1600 steps to the bottom to see the waterfall, and this is not easy.
【Jinxiu Valley】 (锦绣谷)
Stone steps from the bridge through the left side of road before the trip to the Fairy Cave lead you to a beautiful about 1.5 km long valley – Jinxiu Valley. This valley is famous for steep and comely stone forest. If it encounters temperatures dropping, Jinxiu Valley would be one of the best place to see Lushan Cloud Sea. You need to hike along the valley to tour around. When you walk to the end of it, you will come to the Fairy Cave Scenic Area, which is the best place to have a bird-view of the valley.
【Five Old Man Peaks】(五老峰)
Five Old Man Peaks is sited in the southeast of Lushan Scenic Area, with an altitude of about 1358. There are the steepest and the most majestic peaks in Lushan area. They look like five old men sitting on the floor, hence it got the name. And they have different shape from different point of view. You will not be able to have a taste of majestic beautiful of the peak at the foot of them. As the southwest side of the peaks is steep, so tourists usually start to climb from the paths at the northwest side. It may be physically strenuous to climb the first peak, but it is smooth terrain from the first peak to the fourth peak, and the distance is not too long. But it is a little far from the fourth peak to the fifth peak, which may takes you about 1 hour by foot. If you are not energic, you can climb from the first peak to the fourth peak, then return back along the original way, which will takes about 2 hours. If you are energic, you can continue to tour the fifth peak and then go down the mountain along the steps near Five Peaks Pavilion, which will lead you to the station of cable for Three Tiled Spring in half an hour.
The fourth peak has the highest altitude, with fantastic view. On the top you can overlook Poyang Lake and countryside view nearby. In addition, Five Old Man Peaks is the most energy-consuming attraction in Lushan, and you should decide to tour it or give up considering your body condition.
【Meilu Villa】
Meilu Villa being simple and natural in style is quite a sight on Lushan Mountain. There are individual buildings with unique style and structure, including styles of Rome- and Gothic- churches, Japanese building and Islamic Mosque. Built in shady places, the villa is well integrated with the natural scenery with casual style. Buildings here are mostly one or two-storeyed, though in clusters, are less densely located and decorated with trees all around, which is a pleasing picture to the eye.

How to Get to Lushan Mountain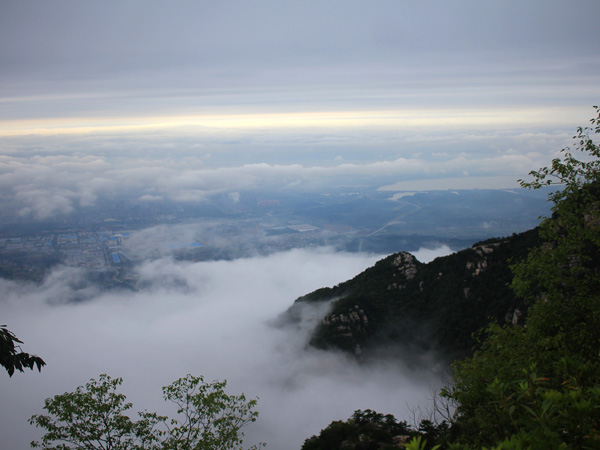 【By Air】So far(MAY 27, 2016), there are no flights available to reach Jiujiang directly, where Lushan Mount is located. The nearest airport is Nanchang Changbei International Airport. So if you want travel from other cities in China by air, you need to fly to Nanchang first, then transfer to high-speed train to reach Lushan Mount in Jiujiang.
【By Train】
There are Jiujiang Railway Station(Changhong Avenue, Lushan District, Jiujiang City, Jiangxi Province), Lushan Railway Station(Hejie Town, Jiujiang County, Jiujiang City, Jiangxi Province) and Nanchang Railway Station around Mount Lushan area. But the nearest train station is the station called Jiujiang (九江), NOT the train station called Lushan(庐山). From Jiujiang Railway Statioin(located in downtown of Jiujiang City) will be easy to find people to share a taxi up to the park entrance or buses to reach Mount Lushan. If you do get to Lushan Railway Station(located in Jiujiang County at the foot of Lushan Mountain, but it is still far from the Lushan Scenic Area) in mistake, it is possible to transfer by minivan outside the railway station to reach Lushan Scenic Area. Or you can go to the bus station at Jiujiang County to hop on a bus to reach Lushan.
There are many normal trains or high-speed trains from other cities to stop or terminate at Jiujiang Railway Station, such as, Nanchang, Xiamen, Fuzhou, Hangzhou, Suzhou, Beijing, Shanghai, Guangzhou, Shenzhen, Hefei, Taiyuan, Xian, Zhengzhou, Kunming, Shenyang, etc.. Upon arrival in Jiujiang Railway Station, you need to take taxi or p to reach Jiujiang Bus Station first ( about 1 kilometers between each other. If you are energetic, you can walk), then transfer to a local minivan(九江-庐山) to reach entrance of Mount Lushan. Then you still need to transfer to shuttle bus of Lushan Scenic Area to reach the main attractions.
【By Bus】
Jiujiang Long Distance Bus Station(at Xun'nan Avenue in downtown) is the main bus terminal in Jiujiang area. There are buses from Jiangsu, Zhejiang, Anhui, Fujian, Guangdong, Henan, Guangzhou or other provinces to reach Jiujiang Long Distance Bus Station. There many buses leaving for Lushan at the station. If you arrive at the station from other cities, you can transfer to Lushan here directly. In Lushan city, you can take Public Bus Route 4, 13, 17, 29, 102, 107 to reach this bus station.
There is another bus station called Jiujiang Lushan Bus Station(九江庐山汽车站) that is located in Kuling Town in Jiujiang City. This station is the transport hub of Lushan Scenic Area. All the buses from other places to terminate in this station first, then you need to transfer to a shuttle bus in Lushan Scenic Area to reach the main attractions in the scenic spot.
Travel Guide
【Chinese name】: 庐山
【Recommended visit time】:It is recommended to spend 2 or 3 days to visit Lushan. If your travel time is quite limited, one day is also fine, but you will be able to visit some main sites in the mountain area only.
【Best time to visit】: May to October is the best time to visit there. Summer is hot time to see waterfalls in Lushan and be away for the summer holidays. Autumn in September and October should have the most beautiful view in Lushan Mountain.