Mount Emei Ski Resort was built in 1998. It is the first ski resort in Sichuan. The ski resort is situated on the right side of Leidongping Park Lot of Mount Emei, 30km west of Leshan city center and 160km from Chengdu, the capital city of Sichuan. With a total area of 10,000 square meters, Mt. Emei Ski Resort has excellent skiing facilities and other supporting facilities. The beautiful surrounding, lush vegetation and the suitable climate with an annual average temperature of 5 degree centigrade (41 degrees Fahrenheit) and around 130 days of snow period make the place an ideal ski resort and a wonderful winter destination to have fun with snow.
Emeishan Ski Resort include a skiing training area, several skiing & skateboard trails / pistes, a snow activities area (with snowmobile rental), a center to play off fireworks, an ice & snow sculptures area, parking lot, restaurant…

Mt. Emei Ski Resort Facts & Facilities
Season: early November to late March the next year
Ticket price: The entrance ticket to Mt. Emei has included the visit to the ski resort. But visitors have to pay for skiing and other activities. To ski is 50CNY per person per hour.
Elevation: the highest skiing elevation is 2500 meters above sea level, though, the family-friendly trails are at a relatively low height
Alpine trail: Covering an area of 4000 square meters, the trail is 200 meters long and 30 meters wide. It can accommodate 300 people at one time. It takes the Mount Emei cable car 3 minutes to get there. Beginner's trail: it covers an area of 2000 square meters and can accommodate 100 people at one time.
Skateboard trail: There are three skateboard trails, each with a height of 120 meters and a width of 8 meters. The over 200 sets of skateboard are for training and enjoyment.
Ice & snow sculpture area: Covering 2000 square meters, it offers various kinds of kid-friendly activities. The cable car can take visitors to the area.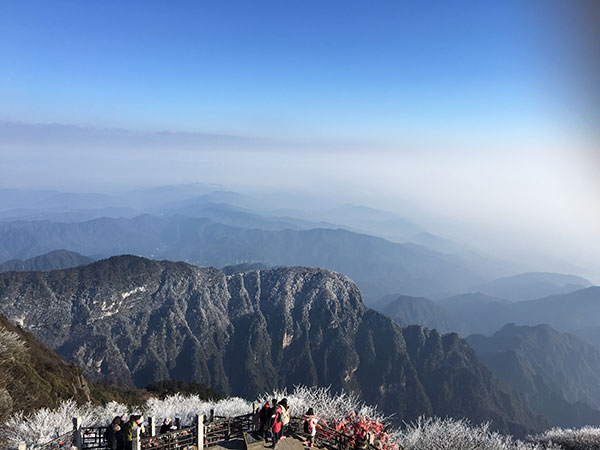 Travel tips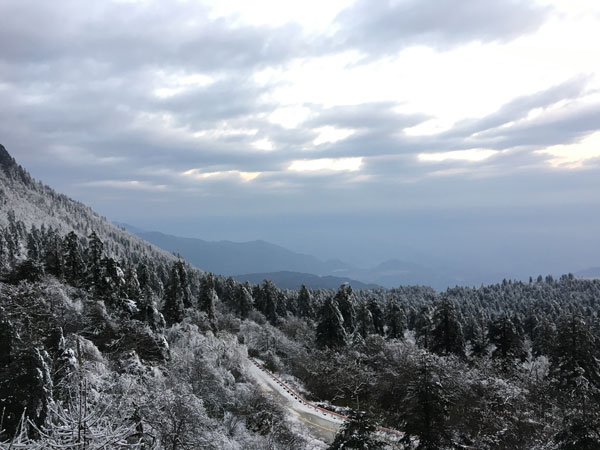 How to get to Mt. Emei Ski Resort: 1) there are sightseeing shuttle buses at the entrance of Mount Emei, on the halfway and on the top of the mountain to take visitors to the ski resort. 2) Take cable car; 3) by hiking. Refer to the page for Mt. Emei Transportation
Things to be kept in mind:
You may encounter groups of monkeys on the way. Don't try to tease them, as they are very naughty and may hurt you.
The winter temperature is between -5 and -15 degree centigrade, so please be prepared with suitable clothes and shoes.
Avoid skiing during the Spring Festival, usually late January to early February, as there will be tourist crowds.
You may also be interested in Xiling Snow Mountain, the largest ski resort in Southwest China, one of the best ski resorts in China, and only 95km from downtown Chengdu.