Golden Lotus Square is located between Avenida de Amizade and Rua de Luis Gonzaga Gomes, the Macao Special Administrative Region of China. A 6-meter tall large sculpture of "Lotus Flower in Full Bloom" unveils its beauty on the joint area of 3 main streets, which aimed to celebrate the return of sovereignty of Macau in 1999. This area hence the name Golden Lotus Square or Lotus Square, becomes a newly tourism spots.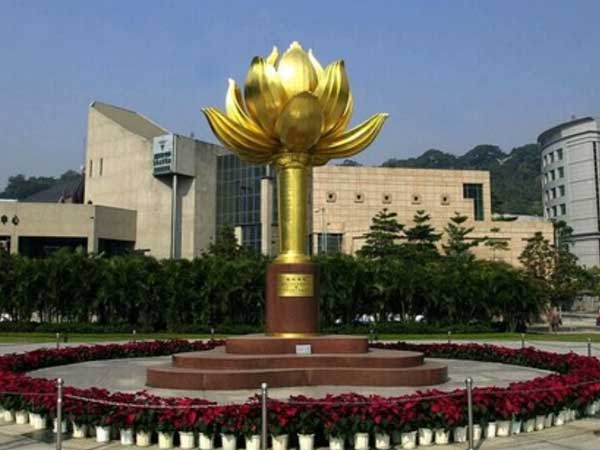 There are two golden lotus statues (a large one and a small one) which are made of gilded bronze and put in the middle of the square. The large one weights 6.5 tons, and the diameter of the flower is 3.6 meters at maximum. The major part of it, with 16 components in total, is composed of a stem, petals and pistil. The base of the flower consists of 23 pieces of red granite, and set in three layers in the shape of lotus leaves. These signify the three main parts of the territory: Macau Peninsula, Coloane Island and Taipa Island. The lotus flower, which is in full bloom, symbolizes the everlasting prosperity of Macau. There are three layers of red granite at the base, which are in the shape of lotus leaves, signifying the Macau Peninsula, Taipa Island and Coloane Island. The small one is 0.9 meter high with a diameter of 1 meter, and is presented in Macau Return Memorial.
Here will have a flag-raising ceremony at 8:00 am every morning and flag-lowering ceremony at eight in the evening. If time allows, you may visit to the Grand Prix Museum and Museu do Vinho de Macau nearby.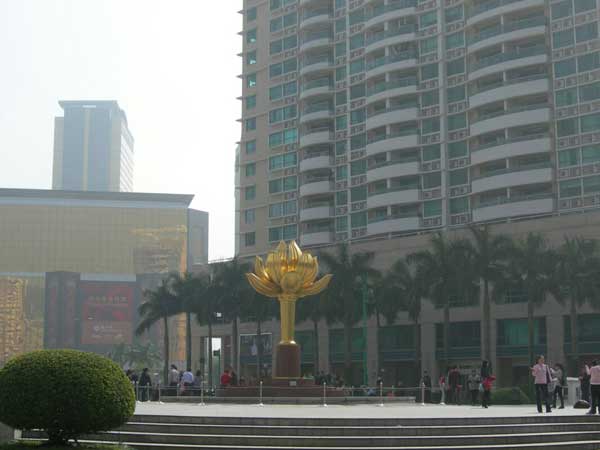 Travel Guide
【Chinese name】: 金莲花广场
【Recommended time to visit】: around half an hour
【How to get there】: you can take Bus 10, 10A, 10B, 12, 23, AP1, 1A, 3, 3A, 28A, 28B, 28BX, 28C, 32, AP1, etc. to get there.