Jiayang Steam Train runs on the Shixi–Huangcunjing Railway (also named Bashi Railway), a narrow gauge railway, 20km west of Qianwei Country and 55km away from Leshan Giant Buddha Scenic Area. Built in 1958, this 19.8-km-long railway is only 762 mm wide, about half of the standard rail gauge (1,435 mm wide), a real great invention and heritage of the 18th Century's Industrial Revolution. In nowadays, the advanced modern trains, especially more and more bullet trains, have replaced the early steam trains, though, visitors still have the opportunity to have an old-fashioned steam train tour to experience a journey of reminiscence, right here in the Jiayang mining region of Leshan City.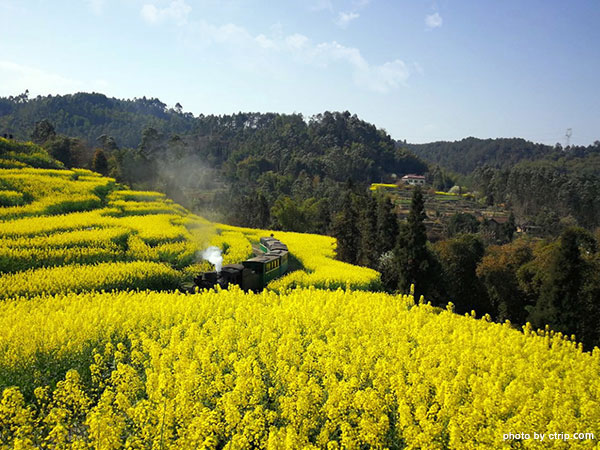 Jiayang Steam Train History
In 1938, Sichuan's first Sino-British coal mine was set up in Bajiaogou, Qianwei Country. To transport the coal, Bajiaogou to Shixi Town railway was begun to be built in 1958 and completed in 1959. The railway was initially 600 mm wide, and broadened to be 762mm in 1960 after an overall re-construction and upgrading. Later, the Jiayang steam train to carry passengers has been operated to date, and is still the most important means of transportation for local villagers. The railway was listed as a national mining park in 2010. Jiayang National Mining Museum in Bajiaogou Town is the branch of China Coal Museum and keeps over 600 exhibits.
Characteristics and Types
Today the steam locomotive has been completely replaced by the convenient, fast diesel locomotive and electric locomotive. World's steam trains are almost extinct. However, Jiayang Narrow Gauge Steam Train is still operated. It takes about 2 hours for the train to do a round trip on the 19,284-meters-long and 762-millimeter-wide railway. Each carriage of Jiayang Steam Train can carry only 20 to 30 passengers. There are six tunnels and 109 turns and bends on the railway. Some of the blends are so big that you can even hardly see in the world. So if you are a steam enthusiast, why not plan yourself a tour to Leshan, Sichuan Province to try Jiayang Steam Train. There are two types of Jiayang Steam Train, the sightseeing train and the common passenger type. For international visitors, you're suggested to take the sightseeing type, with much better condition on its both common carriages and air-conditioned luxury carriages. There are two sighting trains daily departing at 10:30 and 14:00 separately. The train runs about 2.5 hours and stops at attractions for about five to ten minutes for sightseeing.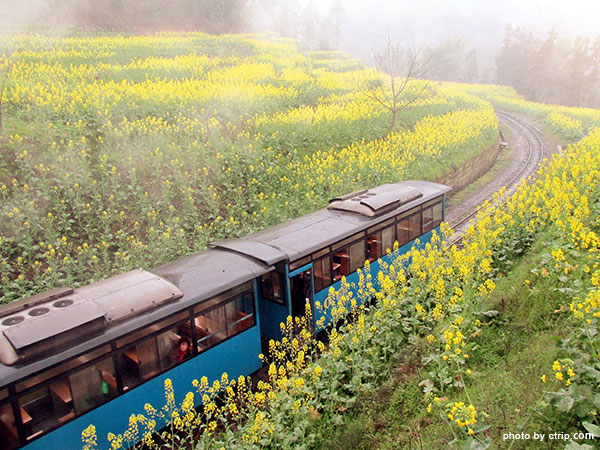 Major Sightseeing Stations and Attractions
Yuejin Station: Local people also name it Sanjing. The departure station of Jiayang Sightseeing Steam Train has moved to Yuejin since 2012. Here visitors can experience the profound mining culture and the simple local life.
Mifengyan Station: Passengers can see how the herringbone railway work (created by Zhan Tianyou, the 'father of China's railroad') and visit an open-air Steam Locomotive Museum.
Bajiaogou Station: There are Suzhou style dwellings, old streets of British structures, a square of Chairman Mao era, the Jiayang National Mining Museum, old coal mines…
HuangcunJing Station: The final station of Jiayang Steam Train, Huangcunjing was the extended mine of Jiayang No.1 Mining.
Time Table
Sightseeing Trains
Yuejin Station
Mifengyan Station
Liangshuituo Station
Baogou Station
Huangcunjing Station
10:30

Arrival time

10:30
10:47
11:20
11:25
11:30

Return Time

13:00
12:43
12:10
12:05
12:00
14:00

Arrival time

14:00
14:17
14:50
14:55
15:00

Return Time

16:30
16:13
15:40
15:35
15:30
Regular Passenger Train
Shixi Station
Yuejin Station
Mifengyan Station
Xianrenjiao Station
Bagou Station
Huangcunjing Station
The first train

Arrival time

06:45
07:00
07:17
07:42
07:55
08:00

Return Time

09:20
09:05
08:48
08:23
08:10
08:05
The second train (on weekdays)
Arrival time
12:45
13:00
13:17
13:42
13:55
14:00

Return Time

15:20
15:05
14:48
14:23
14:10
14:05
The third train

Arrival time

16:45
17:00
17:17
17:42
17:55
18:00

Return Time

19:20
19:05
18:48
18:23
18:10
18:05



Please be noted:
The displayed train schedules are for reference and are likely to change during the public holidays and the peak season.


Jiayang Sightseeing Steam Train Ticket Price
Peak season (weekends from March 1 to April 30, important public holidays): CNY 80 single way, 100 CNY round trip (at the same train), 20 CNY one station
Low season: CNY 50 single way, CNY 20 one station
Short trip from Yuejin Station to Mifengyan Station: CNY 60
Transportation
From
Chengdu
: Passengers can take the bus from Chengdu Chadianzi Long-distance Bus Station to Jiayang Directly (only one bus daily departing at 09:00am). The journey time is 3.5 hours. The bus fare is 70 CNY. If the bus ticket is not available, go to the Shiyangchang Bus Terminal, where there are regular buses running from Chengdu to Qianwei (journey time of 2.5 hours, bus fare at 65 CNY), then transfer to another bus to Jiayang (Sanjing, the departure station of the Jiayang Steam Train).
From
Leshan
: Passengers can take the bus from Leshan Lianyun Bus Station to Jiyang Directly (only one bus daily departing at 14:30, bus fare at 18.5 CNY). Or On the same bus station, you can take a regular bus from Leshan to Qianwei first (journey time of 1 hour). After arrival, take another bus to Jiayang (45 minutes' drive). There are also regular buses from Chongqing and Yibin to Qianwei for the Jiayang Steam Train, with journey time of 5.5 hours and 1.5 hours respectively.