Macau Tower, located in the New Reclamation Area of Macau West Bay, has a total height of 338 meters (standing 338 meters at its highest point, 56 floors in total) from the ground to its highest point. It is the global tenth independent sightseeing tower, and it is one of the members of the World Federation of Great Towers. It is higher than the famous Sky Tower in Auckland, Eiffel Tower in Paris and AMP Tower in Sydney; and it is the highest sightseeing steel tower in Southeast Asia.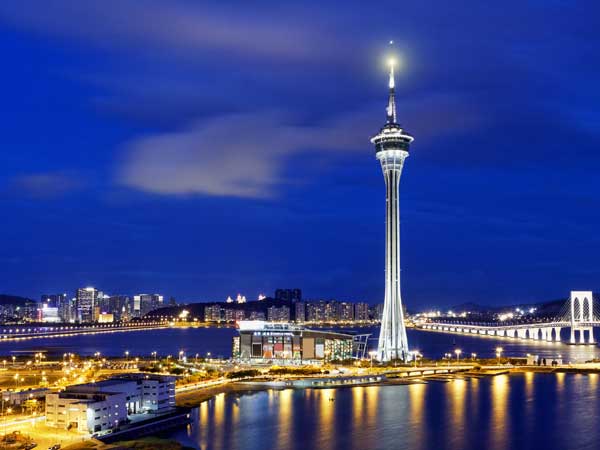 Macau Tower enjoys equal popularity with the Ruins of St. Paul in Macau. As a new landmark and preferred sightseeing attraction in Macau, the Macau Tower is not only the indispensable choice for leisure and entertainment for Macau people, but also the focus of various business award, tourism, entertainment and leisure activities for tourists from Asia and around the world. Besides as a tourist attraction, the Macau Tower also takes up the task of local telecommunications and broadcasting transmission.

What to Do in Macau Tower
Macau Tower offers an observation deck with panoramic views, restaurants, theaters, shopping malls and the thrilling "Skywalk X," a thrilling walking tour around the outer rim at a height of 233 meters above ground. Also, the tower has exhibition and conference facilities, theme restaurants, upscale shopping center and theater, open-air plaza and waterfront promenade. The 60th floor has a large revolving restaurant which can help you overlook the scenery around the whole Macau. The 59th floor is a 180°air bar. Standing on the sightseeing gallery on 61th floor, you can enjoy Macau and Zhuhai's panoramic view; in sunny days, you can also see Lantau Island in Hong Kong.
【Entertainment】
Sky Jump: Since June 2001, the Macau Tower joined hands with AJ Hackett to launch the world's highest SkyJump and created a Guinness World Record "the world's highest commercial Deceleration Descent". On December 17, 2006, AJ Hackett launched the world's highest commercial bungee jump and created two Guinness World Records "the highest bungee jump from the building" and "the world's highest commercial bungee jump facility". Participants jumped from an altitude of 233 meters to feel exciting air leap in 20 seconds with a speed of 75 kilometers per hour before decelerating to a comfortable landing speed upon reaching the ground over the breathtaking cityscape of Macau.
Macau Tower Climb: Macau Tower Climb starts from the 61st Floor of Macau Tower at 233 meters. Then visitors climb to an altitude of 338 meters at the top by climbing 105 meters' vertical stairs. You will take in breathtaking view of Macau, which are the very best available here in Macau. You do not need any experience; however, you should know how to climb a ladder as there are 105 meters of them.
Macau Tower Observation Lounge – "Sky Walk": The 57th Floor is the famous "Sky Walk". Imagine you are on the 233-meter high and only 1.8-meter wide periphery on the top of Macau Tower, you walk around the open-air steel frame without handrail; or you climb down the stone wall along the tower, or you climb up the world's 10th independent tourism tower with your bare hands, how exciting they are. It offers the best view of Macau. Watch down for sections of the observation lounge fitted with glass floor letting you see the ground beneath your feet – 223meters away, feeling like you're walking on air!
【Food】
The 360°revolving restaurant on the 60th floor can not only help guests around the world enjoy the pleasing panorama of Macau in 90 minutes, but also enjoy various delicious food like authentic Portuguese and Indian flavors delicious seafood and Western cuisine and desserts. Also, there is a Chinese food restaurant vigorously promoted by Macau tourism diet magazine which mixes the traditional aulic cooking and innovative ingredients.

Travel Guide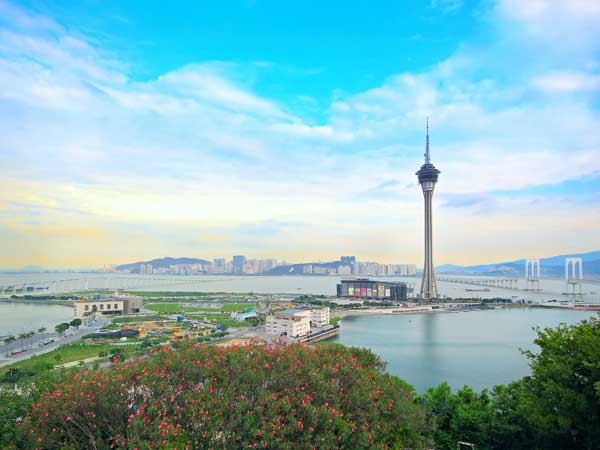 【Chinese name】: 澳门塔
【Recommended time to visit】: Around 2 hour
【How to get there】: Transportation to Macau Tower is quite convenient. Taking a taxi would be the most convenient way to get there. There are some free shuttle bus between some famous casinos and Macau Tower.