Senado Square (Largo do Senado) is located in the central area of Macau Peninsula, in Macau Special Administrative Region, China. This square covers an area of 3,700 square meters. As one of the top four squares in Macau, it was listed into the World Heritage Sites as part of Historic Centre of Macao. Now it is enclosed by the buildings of the Leal Senado, the General Post Office, and St. Dominic's Church. The square is paved in the traditional Portuguese pavement. Except for the highly Europe-style characteristic buildings, a variety of gift shops around are also highlights to visit this place, where you can buy some souvenirs for your friends and families.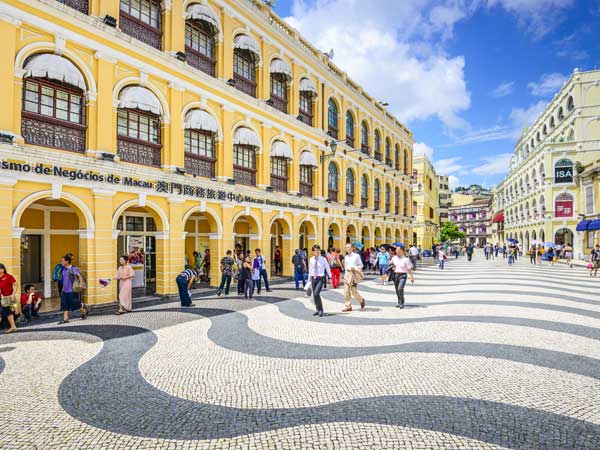 The square is designed into a wave shape, an elongated triangular shaped square and connects Largo do São Domingos at one end and Avenida de Almeida Ribeiro on the other.. And the roads around this site are changed as the pedestrian streets for people to have a walk here. Locals prefer to spend their leisure time here because of the peaceful atmosphere. The fountain in the central is the representative of this square. Its famous fountain has been renovated several times, and currently a celestial globe as used by pioneering Portuguese seamen can be seen in the middle of the fountain, a captivating sight under lighting at night. Buildings around the square are renovated or rebuilt. Senado Square also boasts a rich architectural tradition – St. Dominic's Church, the Holy House of Mercy, Leal Senado Building and Sam Kai Vui Kun Temple reflect the correlation of modernity and cultural exchange of East and West.
Having been Macau's urban centre for centuries, it is still the most popular venue for public events and celebrations today. During the festival period, this site becomes a venue to hold large-scale ceremonies or organization activities.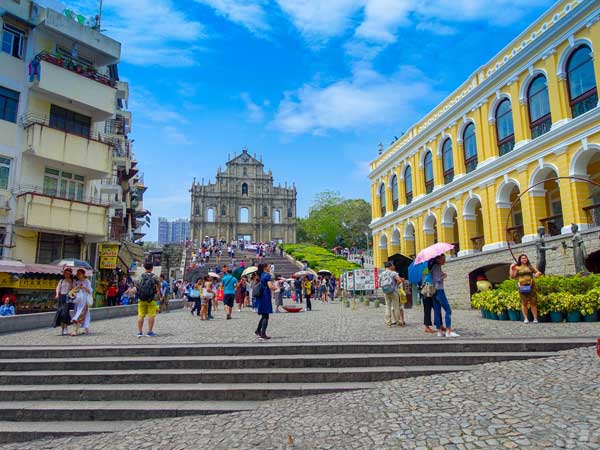 History
Senado square in Macau was built in 1918 to link Praia Grande with the inner harbor. With its passage through the old "Christian quarter" and "Chinatown" it became an attraction for the tourists. It was often used by the colonial rulers to showcase their strength and military power. Senado square in Macau was the city centre which was place where the succeeding the governors looked over military troops and the police force at the time of their inauguration.

Travel Guide
【Chinese name】: 议事亭前地
【Recommended time to visit】: Around an hour
【How to get there】: You may take Bus 2, 3, 3A, 3X, 5, 7, 10, 10A, 11, 18, 21A, 26A, 33, 3, 4, 6, 8A, 18A, 19, 26A, 33, etc. to Avenida de Almeida Ribeiro.