Macau Fisherman's Wharf is Macau's first theme park and imitation Fisherman's Wharf shopping center of Europe and America. It is located at Freguesia da Sé in Macau Peninsula, near the Hong Kong-Macau Ferry Pier and a 15-minute ride to the Macau International Airport. It was built in outport new reclamation coast, near to the Macau Ferry Terminal, Macau Cultural Centre as well as Golden Lotus Square. Covers an area of more than 111,500 square meters, it collects entertainment, shopping, restaurants, hotels, marinas, convention and exhibition facilities, combines different architectural features as well as Chinese and Western culture, so as to make the visitors break geographical boundaries to experience the feel of different areas.

The concept of Macau Fisherman's Wharf came from Europe and America, on behalf of a continental nostalgic leisure; it is not a single entertainment area, it is also a comprehensive Happy Palace. Here, there are numerous specialty shops, and Lan Kwai Fong, Continental Restaurant & Bar. This place integrates different elements together like a small city.
Macau Fisherman's Wharf mixes Chinese and Western cultures, old and modern fashion together. The scenic area is divided into three specialty areas: Chinatown, East Meets West and Lijun Wharf. The mighty "Chinatown" is the Chinese tower built based on the architectural style of the Tang Dynasty; "East Meets West" blend traditional Oriental concepts and Western architectural style design features, including a 40-meter-high man-made volcano, waterfalls, Greek architecture, ancient warships, Arab children's play area, the Roman Forum, specialty shopping mall and convention facilities; "Lijun Wharf" has coast design as its theme which consists of European and Latin-style buildings, features a variety of leisure and entertainment facilities including a modern water arena and electronic games center. In addition, there are museums, restaurants, music square, Indian garden, Chinese-style courtyard and garden as well as other play venues.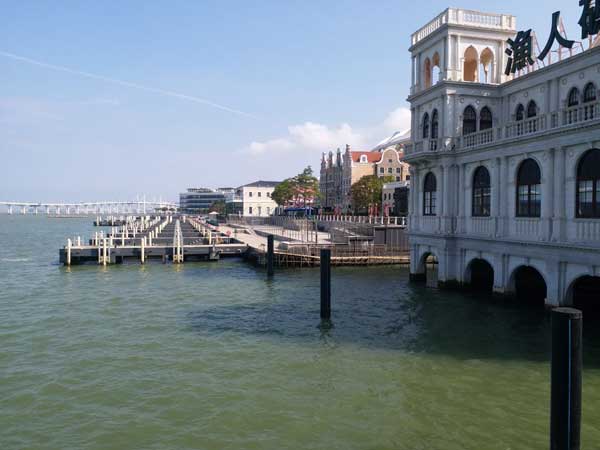 Travel Guide
【Chinese name】: 渔人码头
【How to get there】: it is quite convenient to come to Macau Fisherman's Wharf by public transport or free shuttle buses. Bus Route No. 1A, 3, 3A, 8, 10, 10A, 10B, 12, 28B, 28BX, 28C, 32, AP1. There are some free shuttle buses traveling between Sands Macau Hotel Casino and Macau Fisherman's Wharf. In addition, taking a taxi would be the most comfortable and convenient way.