Fortaleza do Monte, is an ancient monte forte in Macau, one of the part of China's oldest Western-style fort buildings. Built in the 16th century by the Jesuits and later used as a center base of gravity of the military defense facilities in old times, and now it is part of the Historic Center of Macau and one of main attractions in Macau. Macau Fortaleza do Monte is located in the side of the Ruins of St. Paul. Around the forte, there is giant steel gun which has lost its military role but become testimony of Macau's old relics and history.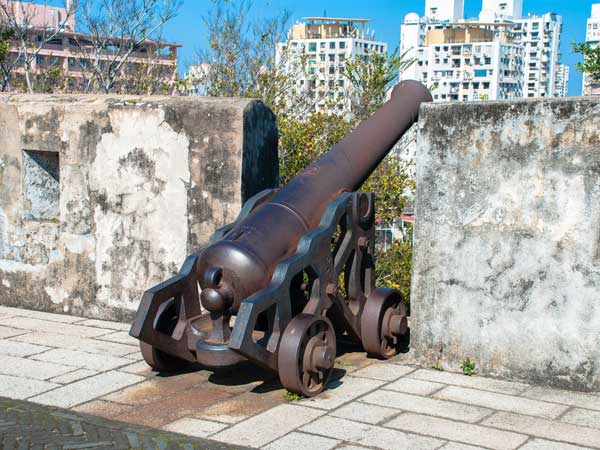 The forte covers an area of about 10,000 square meters which appears irregularly quadrilateral and eatures a public park, an observatory and the Macau Museum. It was first built in the Ming Emperor Shenzong period (1617 AD) and was completed in 1626, lasted for 10 years. The forte experienced the vicissitudes of 300 years history and was finally lifted a ban in 1966; since then, it has become a tourist attraction open to the public. Today, in the central monte forte, it is the Macau Museum which was built in 1998; and at the top of the monte fort, it is a garden which can let you to overlook a 360-degree landscape of Macau, even overlook the Pearl River Estuary and the scenery along the Gongbei area.
There is a large open space on the forte which has green grass, towering and lush old trees and the giant steel gun. On the fort, there are many historic and cultural relics and historic buildings such as the ancient pagodas which was one of the sites of Society of Jesus; the Southern European single-storey house which is the office of the meteorological observatory now; the ancient bell which was created by the famous casting gun expert and was relocated to the Portugal and then a few years ago given back to Macau; the stone carving at the entrance of the fort which has recorded this fort's military exploits to resist foreign enemies.

Travel Guide
【Chinese name】: 大炮台
【Recommended time to stay】: 1 hour
【How to get there】: You can easily walk to the Museum of Macau from either Senado Square, or from Luis de Camoes Garden and St. Anthony Church. You may take Bus No.10, 11, 21A, 2, 3, 4, 5, 8A, 26A, 33 to Avenida de Almeida Ribeiro Station, then walk through Senado Square to get there.