Any city has its own icon, any a landmark building is an enrichment and witness of the history of the city. In Chongqing city what can best embody the spirit, the most representative is the people's Liberation Monument. Because of its special historical connotation, it still has a remarkable influence both at home and abroad. Liberation Stele is located in the road interchange of Minquan Road, Minzu Road and Zourong Road, Yuzhong district. The full name of Liberation Stele is "People Liberation Stele", it represents the peace and liberation.
From the back of the blue sky to look down here, the body of stele is in the vast majority of white, in the top have a few clocks towards all directions, every hour, and it will ring the high and rich loud voice.
Liberation Stele, which stands in the most prosperous downtown of Chongqing, is not only the symbol of civilization, but also the evidence for history of half century. In memory of the victory in the war of resistance, the Liberation Monument on the square is a 27.5 meter high structure.
Liberation Stele, marked as Chongqing commercial heart, isolated by a broad, paved pedestrian square and glassy offices. Around the square there are more than 3,000 stores and shops of various kinds, with two dozen large malls and shopping centers, a dozen star-grade hotels, over 300 establishments and offices such as banks, stock markets, postal and telecommunication services and places for entertainment.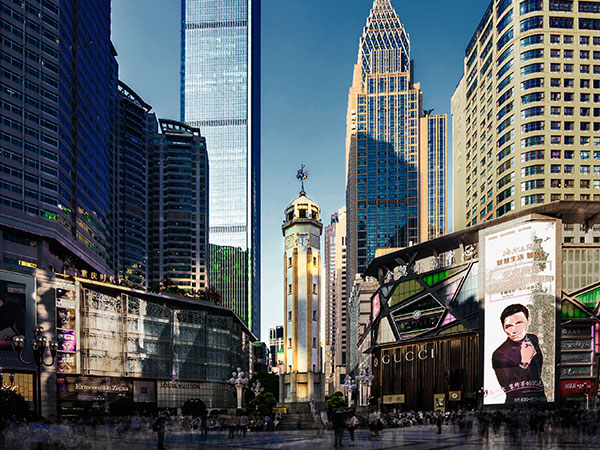 Commerce center of Yuzhong district is here, around 300 meters of Liberation Stele has the city's biggest snack street. Jiangbei Business Street is one of the largest pedestrian street in western China, therefore is called "western China First Street". Less than one square kilometers of area, average daily flow of more than 300000 population, has more than 4400 business outlets, more than 20 big shopping centers, hundred of financial network and the stock exchange, but also bring together more than 500 catering, entertainment, hotel information intermediary, such as tiny treasure land, years' business sales totaled billions of RMB.
Travel Tips
【Transport】
By Bus
1. Tourists can take bus No.402, 462 to "Liberation Stele" stop.
2. Taking bus No.132, 881 to Wuyi Road.
By Subway
Taking Light Rail Line 2 to Linjiang Gate to get off.
【Best time to go】
The spring and fall is the suitable season to travel Chongqing, and hang out around Liberation Stele. Summer and winter also can experience special gourmet tour of Sichuan and Chongqing in the snack street around Liberation Stele.